Organic Milk Pay, Feed and Retail Price Update for January 2018
By Ed Maltby, NODPA Executive Director
Organic milk sales are not growing, with organic non-fat sales dropping, but sales of plant-based milk are rising with the Wall Street Journal reporting an increase of 2.9 percent in sales in 2017. However, the largest gains in milk sales were seen by specialty milk which would include products like lactose-free.
USDA AMS reports that total organic fluid milk sales were marginally higher January-October 2017 as compared to the same period in 2016, with whole milk sales nationally expanding at a consistent rate. Retail pricing was down on average for December 2017, at a low that was last seen in December 2013. Retail pricing varies enormously by brand, private label and region so is not a great indicator of the response by milk buyers in pricing to increased supply. The organic bovine milk continues to have to compete with vegetable and nut juices that call themselves milk, but are basically a few ground-up nuts and water and usually loaded with sugar. Hopefully at some point there will be more exposes on the veracity of the organic claim plus the health benefits of the juices. Unfortunately the two national milk buyers prefer to diversify their products by expanding their selection of non-bovine products. DanoneWave is investing over $60 million in their plant based manufacturing facility in Virginia rather than promote the benefits of bovine milk at the expense of vegetable juices.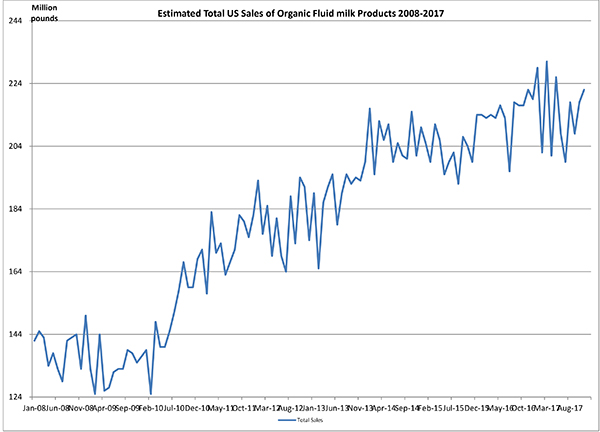 USDA AMS reports total organic milk products sales for October 2017 were 218 million pounds, up 0.4 percent from the previous October 2016 and up 0.2 percent, January-October, compared with the same period in 2016. Total organic whole milk products sales for October 2017, 87 million pounds, were up 6.8 percent compared with October last year and up 6.5 percent, January-October, compared with the same period of 2016.
Federal Milk Market Order 1 in New England reports that during November, 2017, organic
whole milk utilization by pool plants totaled 15.1 million pounds, down from 15.8 million pounds one year earlier. Organic reduced fat milk utilization for November 2017, 20.6 million pounds, was down from 22.6 million pounds one year earlier.
The supply side can be summed up by a quote from Stonyfield Farms in a letter sent to producers: "Unfortunately, at this time, Stonyfield (owned by Lactalis) remains committed to our existing producers, consumers and the New England dairy industry. Stonyfield is not taking on any new dairy producers through 2018." None of the organic milk buyers are taking on new producers and DanoneWave is sending 6 month notices of cancellation instead of renewing some contracts.
DanoneWave and CROPP have lowered their pay price. As of December 2017 CROPP have predicted a base pay price average for New England of $29.52 for 2018 which includes a quality premium of $1.80 but no deductions for stop charges or other coop overheads. This is a drop averaging $10 per cwt from 2014. The pay price for their organic Grassfed program is $33.52 per cwt. For the Northeast region, the pay price is slightly lower at $29.27 for organic milk, and organic Grassfed at $33.98. DanoneWave do not publish their pay price and it will vary by contract but producer reports have the price averaging that of CROPP cooperative. There is no guarantee that the pay prices will remain that high and in the CROPP cooperative calculator the summer pay-price is down to $25 per cwt. The only company not to lower their pay price significantly has been Upstate Niagara in western New York that has exercised supply management and restricted its supply to a specific region to control trucking and overhead expense.
The changes in the organizational and business structures of organic buyers will further compound the uncertainty of the organic pay-price in 2018. Lactalis (Stonyfield) is an unknown as to whether they will expand their own pool of milk or look to others to supply their raw milk. The other question very pertinent to New England is whether they will expand their facility in New Hampshire or look to building new plants in more cost effective regions. Lactalis has entered into a deal to acquire Siggi's, a producer of Icelandic style skyr yogurts. Siggi's products are sold in retailers including Stop & Shop, Meijer, Publix, and Whole Foods Market. In 2017, the company saw topline growth of 50 percent and projects similar results this year, according to Siggi's president. Lactalis plans to use the acquisition to expand the company's yogurt platform in the U.S.
DanoneWave is not new to the market but the parent company (Danone) has made changes to the management because of a 2.2% drop in third quarter sales. Mariano Lozano, previously CEO of The Danone Company, has been appointed CEO of DanoneWave, under Francisco "Paco" Camacho who leads Danone's Essential Dairy and Plant-Based (EDP) International business division which includes DanoneWave in North America. Danone CFO Cecile Cabanis is quoted in the Wall St. Journal with this prediction: "The premium dairy business continues to be pressured by the industry's oversupply of organic milk. We continue to take steps to reduce our organic-milk supplies." They have also shown their willingness to cancel contracts by using non-organic provisions within the contracts, for example producers diverting some of their milk for direct marketing. Inevitably, the shrinking margins and cheaper raw milk for buyers will lead to contracts being cancelled because of expensive trucking routes and smaller pickup volumes in the Northeast. Producers need to read any new contracts carefully, despite their lack of leverage and no choice in milk buyers. The brochures Making the Most of Your Milk Check and When Your Processor Requires More than Organic Certification are still relevant and available on the NODPA website or by calling 413-772-0444 for a free copy.
CROPP Cooperative faces its own upper management challenges. George Siemon gave 10 year notice of his planned retirement - about 9 years ago. With the situation for organic dairy going from bad to worse and finances at CROPP continuing to suffer due to poor decisions made by management, George Siemon is quoted in the January 2nd 2018 Wall Street Journal article "Dairies Are Awash in Organic Milk as Consumers Jump to Alternatives" with this admission, "The market slowed way down. There are a lot of signals I may have missed in hindsight." The question mark must be around the experience and competency of the new breed of management who will run the company that George has dominated from its inception.
NODPA does not have the resources to access Nielsan data but I will summarize the situation with this quote from the January 2nd Wall Street Journal article by Heather Haddon and Benjamin Parkin.
"The honeymoon ended in 2017. Organic milk sales fell in volume and dollar terms for the first time since at least 2013, Nielsen data shows. Organic milk sales at select grocery and convenience stores peaked at more than $1.42 billion in 2016, falling to $1.37 billion in 2017, according to Nielsen sales figures."
The lower price for feed and protein may be a life-saver for some organic dairies but it is not beneficial for organic soybean and corn growers. Prices for organic feed corn and soybean remain at the same un-economic level for domestic production of $8.50 for corn and $17.50 for soybean. Progress on greater scrutiny and accountability for imports continues with various bills being introduced in Congress and more actions from the NOP.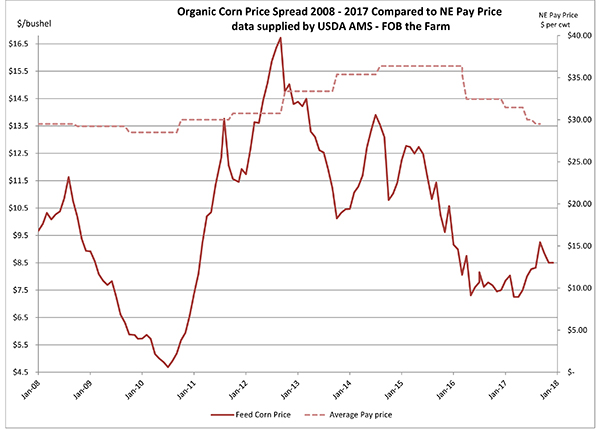 Attached File:
Posted: to Organic Pay, Feed & Grain Prices on Mon, Jan 1, 2018
Updated: Mon, Jan 1, 2018