In Memory of John Kinsman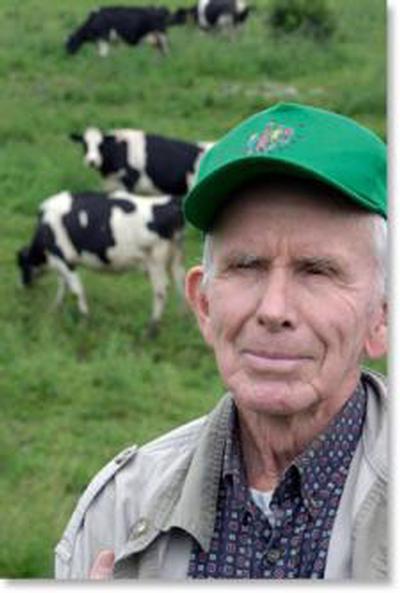 John Kinsman
By Bruce Drinkman, Organic Dairy Farmer & MODPA Treasurer
Added March 17, 2014. In January the organic community and family farm community lost one of its shining lights. John Kinsman passed away peacefully at his farm. John farmed organically most of his life. After an incident with chemicals early in his life, which hospitalized him, he decided to move forward without them. The introduction of BST lit a fire in John that was never put out. John's view on this created tensions in certain circles. John viewed BST as a total loss. It was a loss for the farmer, a loss for the cow, and a loss for the consumer. The loss of farmers that resulted from this along with poor pricing policy would be devastating. John knew the hardship caused to our cattle would be severe and declining consumer confidence would be the final nail in the coffin. When organic came to the forefront John was already there.
John was very much involved in social justice. He attended some of the civil rights events of the 60's and continued to work in this area most of his life. He believed that social justice should be obtained everywhere in the world and that production of food for a fair price was an important piece of that puzzle. John was a world traveler who took his message to places many of us only dream of. He was as comfortable with executives as he was with the peasants of the world. Food is the one connecting piece in all of it. John believed everybody deserves to have a good meal at a fair price. He also believed a farmer deserved a fair price for his product.
This outlook on life brought many activist groups into John's life. John was a good liaison between farmers and several groups concerned with hunger in the world. John was a founding member and President of Family Farm Defenders, Secretary of MODPA, and Secretary for many years of The National Family Farm Coalition. John also collaborated with groups like Farm Aid, Why Hunger, and RAFI just to name a few.
John always believed that the strength of farmers lies in letting our consumers know what we are doing and also what we need from them. We cannot count on the consumer to see through some of the press that is generated to support a certain issue. The consumer needs to hear directly from us. John also believed that we need to continue to support and improve on a local food system. If the consumer knows their farmer, they find it much easier to be supportive. He also saw the cost of moving food from coast to coast and around the world as being wrong for the farmer and the consumer. In this situation nobody wins.
Through all of this work, John also maintained a small organic dairy herd. With this he managed to raise 10 children. He firmly believed you did not have to get big or get out.
John will be missed by many but the benefits of his work will be enjoyed by all of us for years to come. We can all hope to carry his message and work forward. I know I intend to.
Posted: to Industry News on Mon, Mar 17, 2014
Updated: Mon, Mar 17, 2014