Feed Price, January 2014
Update
Added January 24, 2014.
Organic fluid milk sales are growing steadily with a year to date increase of 4.7% over last year, with some strong competition in the dairy case in the Northeast as Horizon Organic maintain the number one position in retail sales, with sales of store brand/private label in second place. While the average retail price remains fairly stable at an average of $3.45, the low end of the retail price is currently $2.79 per half gallon, which will be priced for in-store brand promotions and store brand loss leader promotions as organic milk is used to attract organic shoppers. The retail price at the high end is $4.99 per half gallon. All brands and store brands are offering specials depending on geographic location and willingness to use organic milk as a loss leader.
Contracted pay price for producers hasn't changed and with component and quality bonuses the farm-gate price is reaching the mid $30 per hundred weight for many producers in the Northeast but profitability for all but the most established organic farms is still dropping. Processors are looking to diversify their operations and invest in non-dairy enterprises. WhiteWave have extended their MAP to January 2014 because of the continued high cost of feed. They have decided to sell their large organic dairy in Idaho and move out of the production of raw milk. WhiteWave is now expanding into China through a joint-venture agreement with China Mengniu Dairy Co. The venture will purchase Yashili Zhengzhou, which is building a production facility. WhiteWave will own 49 percent of the venture, and Mengniu 51 percent. This follows WhiteWave's announcement that it has completed its $600 million purchase of Earthbound Farm, a California company that sells organic salads, dried fruits and frozen fruits and vegetables. Organic Valley, through its subsidiaries Organic Prairie and Lorentz Meats, is investing in a slaughterhouse and meat processing facility in southern Vermont and will distribute product throughout New England in partnership with Black River Produce.
Stonyfield Farm (manufacturers of organic yoghurt) have decided to move forward in establishing their own pool of milk. They have yet to name a pay price for the milk they will purchase or what farms they will contract with and at what volume, but intend to target farms that want to transition which will be difficult when non-organic dairy is more profitable than organic. Stonyfield will also be offering technical assistance to producers who wish to expand, although its difficult to imagine any profitable organic dairies thinking of expanding would need technical assistance – their major need will be money. The assumption is that this initiative by Stonyfield will be looking to cut their manufacturing costs by reducing trucking and pooling costs not by lowering the pay price to producers.
USDA Agricultural Marketing Service reports total organic milk products sales for October as 194 million pounds with organic Whole Milk sales seeing the biggest growth; an increase of 11.5% over October 2012. Year to date sales are up 4.7% over the same period of 2012. The weighted average advertised price of organic milk half gallons is $3.45 One year ago the weighted average advertised price was $3.29. The Northeast has the highest weighted average price, $3.76, while the South Central Region has the lowest weighted average price this period, $2.79. The organic-conventional half-gallon price spread is $1.80.
Trading in corn and soybeans has been affected by the weather and the challenges of transportation. While commodity prices are lower than 2013, down $2 per bushel to $24.4 for soybeans and $3 per bushel for organic corn, producers report that this only equates to an average reduction of $30-50 per ton of feed delivered to the farm. The supply of reasonable quality organic hay is light and difficult to find.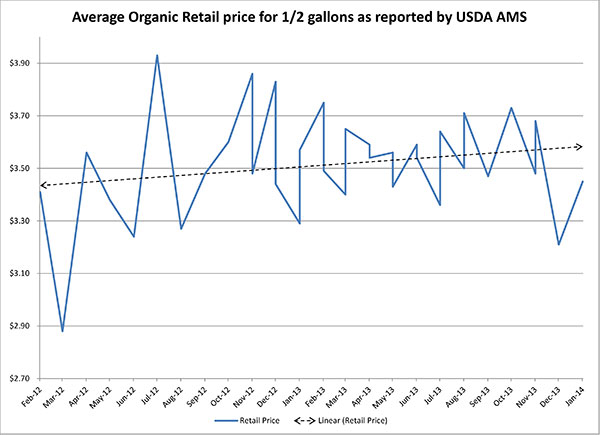 Posted: to Organic Pay, Feed & Grain Prices on Fri, Jan 24, 2014
Updated: Fri, Jan 24, 2014