Ralph Caldwell suffers drastic loss
November 12, 2013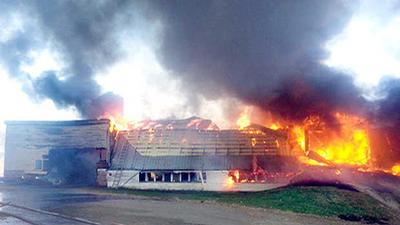 Caldwell Barn
Compiled by NODPA Executive Director Ed Maltby
Ralph or Raz Caldwell and his family suffered a loss of two of his barns and some equipment on September 29, 2013 when fire broke out at the Caldwell Family Farm. Due to the lack of fire hydrants at the rural location, tankers supplied water to the scene and trucks were used to pump water from a small pond down the road. Friends, family and neighbors helped move all the 130 animals out of the barns so that none were lost. First reports were that the fire's cause was probably electrical, and it probably started in the barn's milk room. The barn itself was built in 1959.
Ralph had just returned home from the NODPA Field Days and a trip to Kentucky to help the young couple that were due to buy his milking herd and rent his barns when the fire happened. Ralph had been working with the couple to assist them in purchasing the milking herd and in his usual style approached the challenge that the fire presented to this transition with conviction that there was still opportunities for everyone. The local newspaper reported that he told the young couple that he would work with them to turn this into an opportunity, "I told them I didn't know what we'd do, but we'd do something."
Ralph was also quoted as saying, "It ain't been a bad day — just could have been a lot better, that's all." This comment is typical of his and his family's attitude to the daily challenges of life and farming. Ralph has always been an outspoken voice for a fair pay price and has always been willing to speak honestly to both processors and the government when it comes to the financial realities of organic farming. Never whining, always practical and good humored, Ralph has been generous with his time and money in supporting other farmers.
In the true spirit of helping neighbors, Greg Varney opened his facilities up to accommodate the Caldwell cows and made sure they were able to be milked and fed. The Maine Organic Milk Producers (MOMP) is attempting to set up a relief fund to help Raz Caldwell recover from the fire. Insurance never covers all the costs of recovering from such devastating fires and any amount of donation will be helpful.
To contribute to the fund for the Caldwell family please send donations to: Maine Organic Milk Producers, c/o Mary Castonguay, 39 Richmond Hill Road, Livermore, ME 04253. Please make donations payable to Maine Organic Milk Producers.
Posted: to Industry News on Tue, Nov 12, 2013
Updated: Tue, Oct 16, 2018