Feed, Pay and Retail Price, April 2014
Update
By Ed Maltby, NODPA Executive Director
Added April 8, 2014. CROPP, Organic Valley's parent company, has had a good year nearing a billion dollars in sales with an increase of 8.5 percent on previous year's sales. WhiteWave, Horizon Organic's parent company, is diversifying and generating great profits for its shareholders. Organic fluid milk sales are growing steadily with January 2014 figures for sales up 13.5% a year on January 2013, with whole milk growing at the same rate as non-fat dairy products. This is in contrast to demand for conventional milk, which is shrinking by 1.1% on January 2013 sales. Organic milk sales have never been higher at 197 million pounds for January 2014 and competition in the dairy case is as strong as ever especially in the Northeast as Horizon Organic maintains the number one position in retail sales, with sales of store brand/private label in second place. While the average retail price for a half gallon remains fairly stable at an average of $3.60, the low end of the retail price is currently $2.79 per half gallon, which will be priced for in-store brand promotions and store brand loss leader promotions as organic milk is used to attract organic shoppers. The retail price at the high end is $4.99 per half gallon.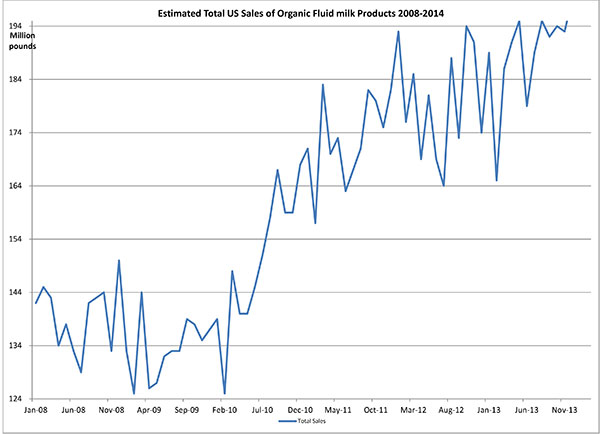 With a delay in the Spring flush of milk because of the long winter and extreme weather, manufacturers are reportedly facing shortages and lack of supply of butter and are considering trucking product from further away. USDA AMS reports that longstanding Midwestern customers of bulk organic butter previously sourced from butter manufacturers in Wisconsin and Iowa have been told that bulk organic butter will not be available in the foreseeable future.
Unlike their conventional neighbors, 2014 does not look to be a profitable year for organic dairy farm families. There is no word of any increases in a base price despite increased demand and tight supply, and feed costs remain high, with producers hanging on to the extended MAP and seasonal payments to stay in business in the Northeast with a farm gate price of around $33 per hundred pounds. Western producers are suffering terribly from the drought and the high price of feed with some major producers and historical leaders of organic dairy in the West diversifying out of organic dairy. It's time for the processors to move away from regional payments and increase the pay price for Western producers to match their input costs. There is plenty of evidence of the need and if the processors are truly supporting the future of organic production rather than their own growth as companies or their future as salaried employees, then they need to recognize the needs of their member owners and their suppliers.
The latest word from Congress is that the rules for exemption of all organic products from paying into conventional check-off will not be finalized before December 2014 because of other priorities for programs (especially the dairy margin insurance) from the latest Farm Bill that need regulations written. Organic Dairy producers need to pay attention to the dairy margin insurance program as the low cost of insurance for those producers under 4 million pounds annually will be cheap and despite the fact that all the calculations will be based on non-organic prices, this could be a good profit center for organic dairy producers.
USDA Agricultural Marketing Service reports Organic Whole Milk sales seeing the biggest growth in January 2014; an increase of 13.5% over January 2013. The weighted average advertised price of organic milk half gallons is $3.60 One year ago the weighted average advertised price was $3.59The organic-conventional half-gallon price spread is $2.07, despite the high price for conventional Class 1 fluid milk which is running at $26.9 per hundred pounds in the Northeast Federal Milk Marketing Order.
Trading in corn and soybeans has been affected by the weather and the challenges of transportation and has been slow to moderate with demand for feed corn and soybeans strong. While commodity prices are down about $1-$1.50 for 2013 for corn at an average of $11 per bushel, organic soybeans are priced at about the same as January 2013 at $25.50 per bushel. Organic hay is in very short supply and priced over $300.00 per ton and difficult to find. Many producers are near the end of their stored feed as the ground is slow to warm up after a long winter for the Midwest and Northeast, although they have the plows out in southern Pennsylvania.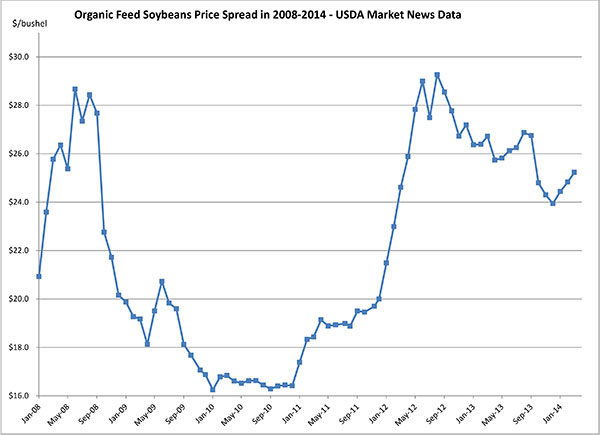 Posted: to Organic Pay, Feed & Grain Prices on Tue, Apr 8, 2014
Updated: Tue, Apr 8, 2014