Organic Milk Pay, Feed and Retail Price
January 2017 Update
Sales of organic fluid milk increased by four percent a year through October 2015-October 2016, compared to the same period in 2014-2015. This is compared to zero growth in sales for the same period 2013-2014 compared to 2014-2015. The average retail price for organic half gallons in 2016 was $3.96 compared to $3.90 in 2015. Pay price to organic dairy producers fell by an average of $2 per hundred pounds in 2016.
The major milk buyers are not taking on new producers; have asked existing producer suppliers to limit growth in production; and there are farms in the process of transitioning to organic that do not have an organic buyer. Organic milk is being sold into the conventional market at rock bottom prices while conventional milk in the Northeast is being dumped as capacity to balance supply was overwhelmed. We are now suffering the consequences of a surplus supply situation despite historically high sales of organic fluid milk, plus the rapid increase of grassmilk sales. To have a surplus despite an increase of four percent in fluid retail sales, mostly in whole milk, we can assume that production must have increased by six or seven percent. This increase came from higher yield, by feeding cheaper purchased feed, or an increase in the number of organic dairy cows through continuous transition from conventional status (still possible without the Origin of Livestock Final Rule) or transitioning of farms.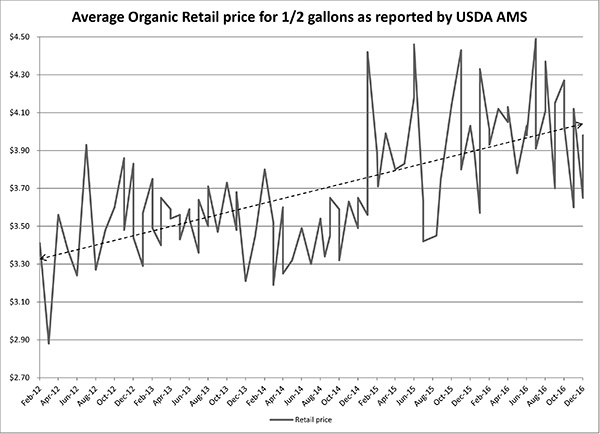 Why wasn't this surplus absorbed by the milk-hungry organic manufacturers? We do not have independent volume data for organic milk sold into manufacturing but manufacturers need a consistent supply to justify launching new product lines so can't respond quickly to an availability of more supply. There is also the availability of organically certified processing capacity which is limited because of the oversupply in the conventional milk market. This lack of availability of organic processing is one reason CROPP recently announced two major capital projects: the purchase of a creamery in McMinnville, Oregon, and the construction of a cheese-cutting facility in Cashton, Wisconsin. Another alternative reason why manufacturers haven't taken advantage of this surplus might be that they were already committed to purchasing cheaper imports to ensure a steady supply of dairy ingredients.
CROPP's recent multi-year agreement with General Mills to build the organic milk supply, by supporting the transition of 20 mostly Amish farmers from conventional to organic production, highlights the manufacturers' need to have a dedicated, multi-year supply as they expand their portfolio of organic brands.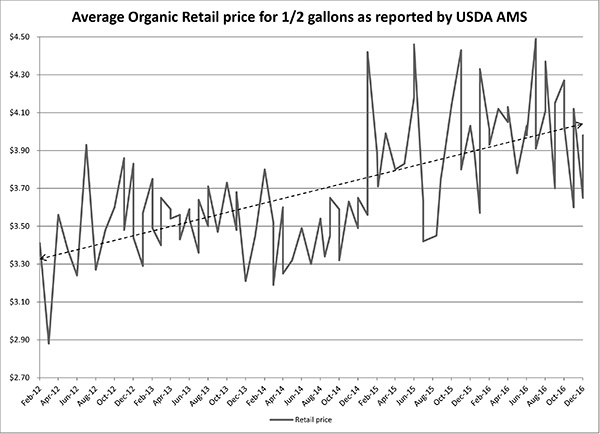 CROPP has also adopted another approach to solving the challenges of processing and distribution by collaborating with Dean Foods to create a 50/50 joint venture which is called Organic Valley Fresh. They will share the management of their combined High Temperature Short Time (HTST) organic business targeting this shorter shelf life product that is seen as fresher, more local and better tasting product. This pasteurization method is favored for "Grass Milk" brands and is also preferred by some private label customers, for example, Whole Foods' 360 brand. The joint venture will bring an infrastructure that has the possibility to open new markets and increase the sales of the Organic Valley brand. Dean Foods will utilize its network of refrigerated, direct-to-store distribution points in stores across the country which delivers products to more than 140,000 locations to lower the cost of sales and distribution, plus increase the availability of the Organic Valley brand. Sales teams from both companies will sell CROPP's organic HTST milk products. Dean will replace its Horizon milk volume with Organic Valley volume. Also, Dean has spare capacity in its HTST processing plants that can be utilized by the joint venture.
It's difficult to see how the proposed CROPP/Dean joint venture will increase Organic Valley product sales dramatically although it is possibly a good defense against the Group Danone expansion into the US organic market. The CROPP/Dean joint venture, which will be launched in the Fall of 2017, will not have any impact on the current surplus and is questionable as to whether it will increase the volume of sales in the long term. The success of this joint venture will rely on increasing the sales of the Organic Valley brand of products in a highly competitive retail dairy case that is increasingly full of non-bovine/vegetable milks (soy, almond, etc.). Horizon continues to occupy their long-term position as the brand leader in the retail sales of fluid organic product with over 25% of the market, followed by private label /store brand as a close second.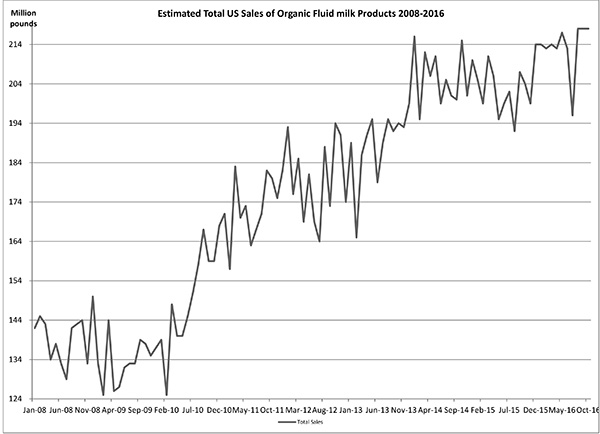 The proposed acquisition of WhiteWave by Danone will increase the competitiveness of the Horizon brand and WhiteWave's vegetable milk brands. Group Danone leadership sees the expansion of sales of vegetable milks as an important factor in the WhiteWave acquisition which is growing at 13% per year as opposed to the 4% growth in organic milk.
Space in a dairy case has always been highly competitive and product availability and regular servicing of accounts is only one requirement. Most retailers require lower prices, higher margins and constant promotional offers. HTST milk cannot be centrally warehoused and does have the logistical problem of regular out of date returns which retailers do not like. Hopefully, we have moved on from the "good old days" of paying buyers cash for shelf space or to block your competition. Brand loyalty in the case of Horizon is not easy to overcome and moving consumers from store brand to Organic Valley brand would be on price and a distinct marketing campaign about the benefits of supporting the branded product.
Given the history of Dean (formerly called Dean Foods) and their business practices towards producers, it is more likely that producers' pay price will suffer in order for the Organic Valley Fresh to compete on price with private label and Horizon product in order to increase their share in the retail milk case. Dean has a responsibility to its shareholders to make the joint venture successful based on payment for their services. CROPP has its obligations to the joint venture plus their responsibility to their nearly 1,000 employees and the profitability of the whole cooperative to factor into increasing the margins available from sales, channeled through the joint venture. Pay price is the one area that CROPP controls, and history shows that this is the first area that is sacrificed when costs need to be lowered.
The acquisition of WhiteWave will make Danone the largest buyer of organic milk in the US according to Errol Schweizer, a former Whole Foods executive who is now an industry adviser. With so much consolidation in the organic market, CROPP will be unable to match the leverage and access to capital that these corporations have. The joint venture with Dean will be a useful tool to increase distribution but without an influx of capital to promote the Organic Valley product line, and to match Danone's expansion, it is difficult to assess what effect the new venture will have on sales.
The fear is that the next headline will be a CROPP merger with another cooperative to become only a wholesaler of organic milk while selling their brand to Dean Food, General Mills, Uniliver (Ben and Jerry's) or any of the other companies wanting to break into the market. This would not be a great change in emphasis for CROPP and would tie in well with its store brand/private label business which takes a large percentage of its current supply and their mission to expand the number of acres in organic production. BUT, we are also living in a time of great opportunity and change. CROPP could adopt a more aggressive position with Organic Valley Fresh. If Danone is required to sell off their subsidiary, Stonyfield Yogurt and retail milk brands, to satisfy the Justice Department approval of their acquisition of WhiteWave, Organic Valley Fresh or some similar CROPP joint venture would be ideally positioned to purchase the brand. This would expand their retail presence and their product mix while securing a market for their producers, particularly those in New England and the Northeast.
Feed corn is still trading at $7 per bushel, about $2 lower than December 2015, and soybeans are priced at $17 per bushel as compared with $20 in December 2015. The last time the prices were this low was in January 2011. Organic hay costs are within the same range as last year, with hay being offered at $50 per round bale or $150-200 a ton FOB with a good supply. Cheap foreign feed still dominates the market and undercuts domestic producers.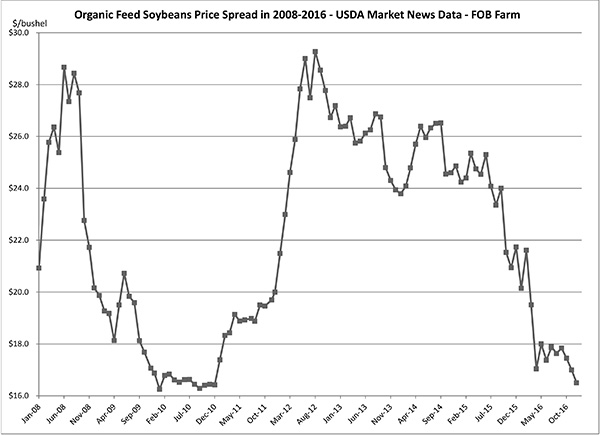 Attached Files:
Posted: to Organic Pay, Feed & Grain Prices on Sun, Jan 1, 2017
Updated: Mon, Nov 19, 2018