What's In Your Farm's Energy Tool Room?
by Mary Ann Hayes, Maine Rural Partners
Added July 17, 2010. Do you have solar access, river frontage, high winds, tidal access, extra land, a need for a rotation crop or a lot of manure? Are you willing to spend time on a project that might divert you from your already busy schedule and might not work or save you money? Have you had a farm energy audit yet? Do you want to be in the energy production business? These are some of the many questions facing farmers who are evaluating their energy challenges and opportunities – ranging from managing feed rations to fueling tractors, heating water, trucking manure and cooling milk. We hope you'll join members of Maine's Farm Energy Partners network at the NODPA Field Days to explore your options.
Anne Weston and Lance Gatcomb thanking Farm Energy Partners for selecting them as a solar thermal demonstration site in October 2009.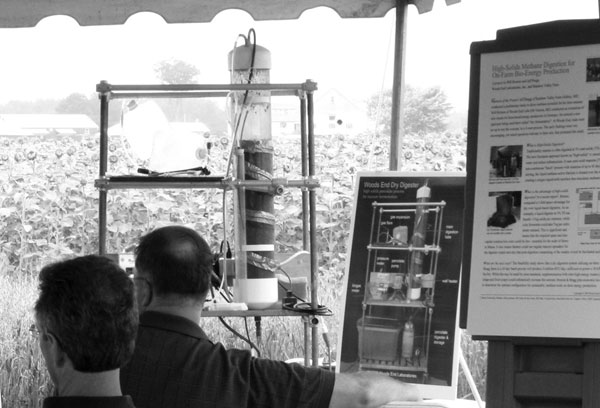 A photo of the Woods End Labs/Rainbow Valley Farm Methane Digester Demonstration that will be at the 2010 NODPA Field Days.
Energy improvements can be a tough maze to navigate, especially with a lot of new technologies often featuring high up-front capital costs factored against low milk prices. Farm Energy Partners has been thinking collaboratively about various challenges and opportunities for 4 years now and offer the following suggestions:
First, we recommend that each farm start with an energy audit to find out how to use less energy before exploring new energy generating opportunities. Many states have building audit programs and incentive programs in place for investing in energy-saving technologies (such as Efficiency Maine) and NRCS is rolling out landscape level (including equipment management and cropping practices) energy audits as well as building audits to EQIP producers. Scoping level audits will provide payback period estimates to help prioritize the most compelling investments. The Rural Energy for America Program (REAP) can often pay 25% of the cost of implementing efficiency recommendations but the application process can be challenging for busy farmers. Check out the Grassland Farm Energy Audit Workshop Presentation at www.mainerural.org for common small dairy audit recommendations.
Next, once you have taken stock of your energy usage and efficiency opportunities, we suggest that each farm consider its business and lifestyle plans and evaluate whether on-farm energy is: (a) a cost factor, (b) an income generating opportunity, (c) a lifestyle/philosophical consideration, or (d) any combination of the above. You could find yourself in a new business and should either embrace the opportunity or avoid the distraction.
Once farm objectives are at least somewhat clear, consider: (a) whether you have the time, interest and potential upfront investment capital available to invest in learning about and trying something new, and (b) whether you have access to affordable and reliable technical support.

If your answer is "no" to either of the questions in #3, you may just want to hold back and wait for the innovators to test the new ideas and implement the proven winners once a track record is more firmly established.

If your answer is "yes," there are a lot of exciting opportunities to explore. It's time to look at your particular situation and evaluate what you have for energy assets (tools) and learn all you can about what others have been doing. Farm Energy Partners welcomes members from all states, so sign up at www.mainerural.org. Membership is free.
We recognize that dairy farmers are both very busy and constantly innovating. The clever solutions invented on every farm are often brilliant and generally hard to find. That's why Farm Energy Partners, with support from the USDA Risk Management Agency's Community Outreach and Assistance Partnership Program, is building an on-line searchable database and farmer-to-farmer exchange center to help farmers share their experiences with energy-related projects, both good and bad.
Sign up to receive the Harvesting Clean Energy newsletter at www.mainerural.org to find out how to access this service when it goes live this fall. We also want to know: (1) what you most want to learn, and (2) if you have a story to share with your fellow farmers. We'll help you get it written up and entered. Email us at cleanenergy@mainerural.org or call 207-873-2108.
Those attending Friday's afternoon session at NODPA Field Days on October 8th will learn about five distinct energy innovations that may be relevant for small organic dairy farms. Farmers and applied technology educators from Farm Energy Partners will share their experiences with using wind, solar, manure, oilseeds and grass in new ways. Each will share a story of an energy innovation journey, many with surprise twists and turns – here's an idea of what you will learn from 3 professional dairy farmers and 2 applied educators working closely with farmers and community developers to achieve their goals:
Jeff Bragg of Rainbow Valley Farm, a certified organic dairy farm in Sidney, will share his journey to develop a working methane digester for smaller farms. This is a process that is already in its 5th year. Jeff has been working with Will Brinton of Woods End Laboratories of Mt. Vernon, Maine since early 2008. A demonstration model of the methane digester has been tested and will be on display during the Field Days. Come check it out on Thursday!
Anne Weston and Lance Gatcomb of Weston Acres Farm in Litchfield will share their impressive before-and-after change in energy costs for water heating and milk harvesting after two recent investments. Last year, Anne and Lance installed a variable speed vacuum pump and replaced an old electric water heater with a solar thermal and on-demand propane water heating system.
Henry Perkins of Bull Ridge Farm in Albion will share his experience and advice regarding organic canola, sunflower and soybean oil production, processing and marketing. Henry's search for on-farm energy production led him to a new food crop — his organic sunflower oil sold for $5/pint at the Common Ground Fair last fall.
Mick Womersley of Unity College will explain practical ways to assess your wind resource and take prudent steps to invest in a wind turbine that fits your values, wind resource and pocketbook.
Andrew Plant of Aroostook County UMaine Cooperative Extension will share his recent research. He is exploring the use of rotation crops for farm energy production and processing, as well as using agricultural residues and dedicated grass energy crops as solid biofuels for commercial, residential, and on-farm thermal and combined heat and power energy markets.
On Thursday, along with getting a close-hand look and explanation of the Rainbow Valley/Woods End demonstration methane digester, attendees will be able to visit the nearby 4.5 MW Beaver Ridge Wind Farm in Freedom and hear from retired organic dairy farmer Ron Price about how these three grid-scale turbines interface with his ongoing farming business on the same property. Ron will also share challenges any farmer should be aware of in dealing with neighbor concerns and municipal impacts of wind turbine installations. This is not to be missed, even if you don't envision wind as a resource on your farm.
So register for Field Days and remember to sign up for the Harvesting Clean Energy Newsletter at www.mainerural.org. We all look forward to seeing you in Unity in October!
Henry Perkins shows RMA Community Outreach Program Director Bill Buchanan his sunflower processing set up at Bull Ridge Farm in October 2009.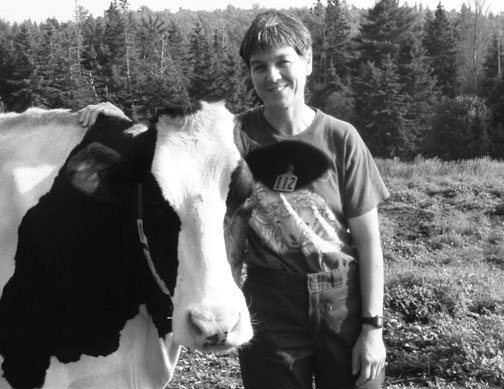 Mary Ann Hayes, Executive Director for Maine Rural Partners
Panelist Bios:
Mary Ann Hayes, panel moderator, has served as executive director of Maine Rural Partners since 2004. Perhaps more significantly, she has helped run her partner Larry Ward's conventional dairy operation just 3 miles from MOFGA's Common Ground Education Center for the last 20 years. Mary Ann has been active in agricultural advocacy and community development at the state, regional and local levels and has served on the Northeast SARE Administrative Council. MRP's Farm Energy Partners network has been providing coordinated energy efficiency and renewable advice to Maine farmers since 2007 to reduce energy usage, improve the environment and strengthen the bottom line. The network's goal is to reach 100% Maine farm energy self-reliance.
Jeff Bragg grew up on Rainbow Valley Farm in Sidney, Maine, migrating to employee status in 1980, partner status in 1987 and becoming the lead proprietor in 1998. Jeff and Kathy have been working throughout this time with Bragg family members to accomplish an intergenerational transfer that is nearing completion. Rainbow Valley Farm is an innovative enterprise, combining organic wholesale milk sales with a vegetable farmstand operation. Jeff and Kathy have utilized Maine's Farms for the Future program, cooperated on several research projects with UMaine Cooperative Extension and received a Maine Technology Institute grant to explore innovative digester technologies that might work on smaller livestock farms.
Andrew Plant is an Assistant Professor of Extension working in agriculture for Aroostook County, Maine. Andrew has been working on alternative crops and energy, promoting and conducting research on liquid and solid biofuels for Maine farmers. His recent research has been exploring the use of rotation crops for farm energy production and processing, as well as using agricultural residues and dedicated grass energy crops as solid biofuels for commercial, residential, and on-farm thermal and combined heat and power energy markets. Grass pellets represent Aroostook County's #1 economic growth sector potential, according to a recent Mobilize Maine analysis.
Mick Womersley, Associate Professor of Human Ecology at Unity College, works just three miles from the MOFGA Common Ground Education Center. Unity College recently began a service learning program in community wind assessment. In cooperation with Maine Rural Partners, Efficiency Maine and others, Mick provides basic wind assessment services free of charge to Maine communities and farmers, while training students in anemometry and community wind site planning as part of a degree in renewable energy and energy efficiency management called Sustainable Design and Technology. Mick is passionate about increasing the public wind resource data set to reduce the costs and risk of specific site-based feasibility testing. His measurements of the wind resource at the State Correctional Facility in Charleston, Maine are very helpful information for farmers in that region. Mick will be installing an anemometer tower at the Blue Ribbon Farm sheep, hay and vegetable farm in Mercer, Maine beginning in July. He raises sheep and other livestock at his home in Jackson, Maine.
Henry Perkins is NODPA Board Chair and the owner of Bull Ridge Farm, an organic dairy and oilseed crop farm in Albion, Maine. Henry has been doing research and development of a wide range of organic grain and oilseed-based energy crops over the last decade, including wheat, spelt, triticale, winter rye, soy, sunflowers and canola. He knows how to maximize the comparative human food, dairy feed and energy value of his crops and has developed an innovative oilseed processing system at his farm.
Anne Weston and Lance Gatcomb are the owners of the Weston Farm in Litchfield, which has been in Anne's family for generations. Anne was the first farmer to sign up to participate in a Conservation Innovation Grant program of the Kennebec County Soil & Water Conservation District in 2008 to receive an energy audit and qualify for matching incentives to implement results. A propane fired water heater and variable speed vacuum pump have cut electric bills on the farm dramatically. Given the serious commitment to follow-through demonstrated by Anne and Lance, the Weston Farm was selected as a Farm Energy Partners solar thermal demonstration site in 2009. The solar water heating system was installed as a team effort by Lance, Augusta Fuels and KCSWCD staff in August 2009 and has performed far beyond expectations.
Posted: to Organic Production on Sat, Jul 17, 2010
Updated: Sat, Jul 17, 2010