Organic Milk Pay, Feed and Retail Price, November 2016
Update
By Ed Maltby, NODPA Executive Director
Its official – we are in a surplus supply situation and CROPP is selling organic milk into the conventional market. George Siemon posted on Odairy list serve: "There is an oversupply in most of the nation, and our cooperative for one is selling milk conventionally rather than lowering the target price so that we protect the long-term organic price." Pay price has been hit though with both CROPP and WhiteWave taking up to two dollars off the Market Adjustment Premium (MAP) which doesn't affect the base price but is significant as we enter into the winter months.
General Mills has signed a multi-year agreement with CROPP as part of its attempt to reach a goal of $1 billion in organic and natural food sales by 2019. Over the next three years, General Mills also plans to more than double, to 250,000, the number of organic acres from which it sources ingredients. As part of the agreement with CROPP, General Mills will help build the organic milk supply with financial support directly to 20 mostly Amish farmers in transitioning approximately 3,000 acres from conventional to organic production. How much General Mills is giving, to whom and at what final pay price to producers has not been reported. General Mills is now giving CROPP two-year projections in order to ensure adequate supply to its yogurt operating unit in the U.S., including brands like Yoplait, Annie's, Liberté, and Mountain High. The Annie's brand, best known for its kid-friendly crackers, debuted its organic whole milk yogurt in the U.S. earlier this year, and the Liberté brand is transitioning to become a USDA certified organic product starting this summer.
General Mills is now among the top five organic ingredient purchasers in the North American packaged food sector. To ramp up its organic offerings, General Mills also has invested in its Yoplait plant in Reed City, Mich., equipping it to meet federal organic processing standards. Steve Young, General Mills' head of natural and organic strategy and vice president of its Annie's brand is quoted in a Star Tribune article as saying, "When you look across our portfolio and forecast demand, we hope to have more deals in place like the Organic Valley deal," he said. "You can't have a growth company without a robust natural and organic portfolio." In the same article, Young is quoted as saying that when organic supplies rise to match demand, the price of buying organic foods will fall and become affordable for more people. What he didn't say is what happens to the organic dairy pay price when the prices of organic milk and organic dairy components fall and how we balance supply and demand to maintain a fair pay price. Balancing supply with demand for organic milk is difficult because the transition time to organic is three years and production will vary depending on the cost of inputs and the weather. Balancing conventional milk is a lot easier since most conventional dairies are housed and cows can be added at will.
During September, it is estimated that 4.1 billion pounds of packaged fluid milk products was sold in the United States. This was 0.2 percent higher than September 2015. Estimated sales of total conventional fluid milk products was virtually unchanged from September 2015 and estimated sales of total organic fluid milk products increased 5.3 percent from a year earlier. Sales of organic whole milk in September 2016 was 17.5% higher than sales in September 2015. Retail prices for organic half gallon averaged $3.95 in September 2016 and $3.80 in September 2015. The average retail price in the first two weeks of November 2016 for organic half gallons was $3.60 compared to $4.13 for the same period in 2015; with a range in 2016 of $4.08 in the northeast and $2.94 in the Midwest.
According to the USDA-NASS 2015 "Certified Organic Survey," organic milk was the top commodity sold, valued at $1.2 billion, with a change of +8% from 2014 to 2015. According to USDA AMS data the sales of fluid milk dropped by 2% from 2014 to 2015 (USDA does not track organic milk being used in manufacturing or being sold into the conventional market). Organic milk volumes and eggs led the way with $1.9 billion in total sales, 57% of certified organic farms sales of $6.2 billion in organic commodities. Across the U.S., most farms (71%) sold to wholesalers, 36% directly to consumers, and 22% to retail markets. The percentage of farms selling directly to consumers was highest in southeastern and northeastern states.
Many areas in the northeast are still in an official drought with it persisting in many parts of eastern New England and we have yet to see how kind the winter will be after the October snowstorms. Forecasters at NOAA's Climate Prediction Center issued the U.S. Winter Outlook in October, saying that La Nina is expected to influence winter conditions this year. They predicted the climate phenomenon is likely to develop in late fall or early winter. La Nina favors drier, warmer winters in the southern U.S and wetter, cooler conditions in the northern U.S. If La Nina conditions materialize, forecasters say it should be weak and potentially short-lived. La Nina winters tend to favor above average snowfall around the Great Lakes and in the northern Rockies and below average snowfall in the mid-Atlantic.
Feed corn is trading at $7 per bushel, about $2 lower than November 2015, and soybeans are priced at $17 per bushel as compared with $20 in November 2015. The last time the prices were this low was in January 2011. Organic hay costs are within the same range as last year, with hay being offer at $50 per round bale or $150-200 FOB.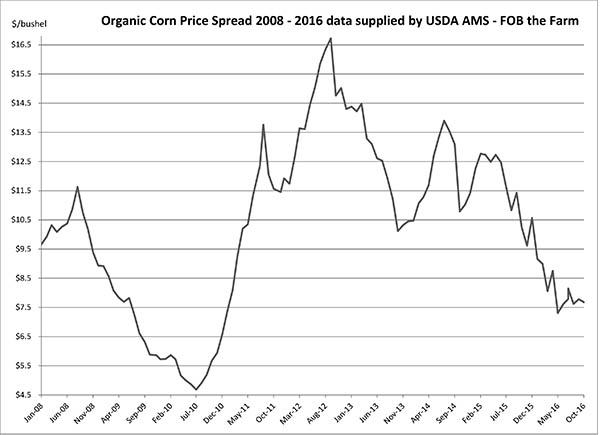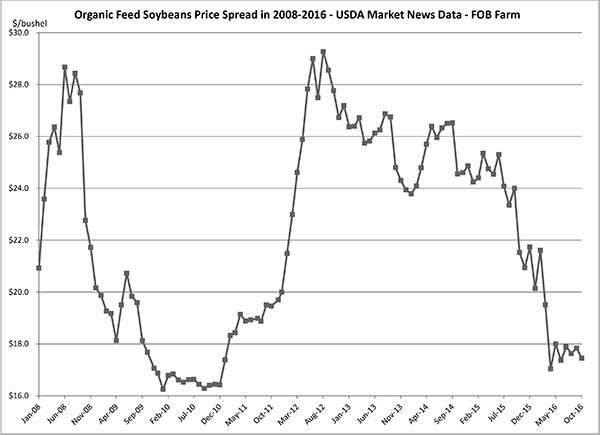 Attached Files:
Posted: to Organic Pay, Feed & Grain Prices on Tue, Nov 1, 2016
Updated: Tue, Nov 1, 2016