Pay and Feed Price: March/April 2021
By Ed Maltby, NODPA Executive Director
Jerry McGeorge, a 20-year employee of CROPP Cooperative holding numerous positions during his tenure, demonstrated his commitment to provide services to his community and many producers by initiating a vaccine clinic at CROPP's offices for the local community. Seeing the need and having the capacity to provide the service for producers, this action by CROPP will, hopefully, be an example for other milk buyers to provide services to their producers whether they view them as partners, owners or merely suppliers of a high quality product on a daily basis, especially as the Pay Price languishes in unprofitability.
The revised 2020 data published by USDA AMS in February 2021 showed a healthy increase in overall retail sales of organic milk for the year 2020. Boosted somewhat by the COVID surge during the lockdown period earlier in the year, there was a 10.4 % increase in retail sales over 2019 sales with whole milk increasing by 11.5 % and the combined organic Fat Reduced milk products by 9.7%. The revised estimated US sales of total organic milk products for December 2020 were 253 million pounds, up 8.9 percent from December 2019. Organic Whole Milk sales for December 2020, totaled 114 million pounds and Reduced Fat Milk (2%) sales were 85 million pounds, up 10.6 percent from the previous year and up 14.9 percent year-to-date.
This trend continues into January 2021, as detailed by the organic fluid product sales published by USDA AMS on March 15, 2021. Sales of total organic milk products totaled 255 million pounds, an increase of 8.1% over January 2020. Organic Whole Milk shows a modest increase over January 2020 of 6% with 113 million pounds, but organic Reduced Fat milk (2%) sales had an increase of 16% over 2020, with sales of 90 million pounds of organic milk.
There is no separate independent data on grass fed but there are some reports that sales are stable at a higher retail price although there is no longer a significant pay price differential.
Interestingly, utilization of Class 1 organic milk has increased year-over-year for January and February 2021 in one of the biggest markets, the Federal Milk Marketing Order 1 (FMMO 1), the Northeast. These increases follow the trend started in August 2020 but not reflected in the 2020 whole year data and reflects the national retail sales data which shows an increase of Reduced Fat 2% milk product sales. Utilization of Class 1 organic Whole Milk in January 2021 was 14.5 million pounds with an increase of 27% over January 2020 and an increase of 35% for total combined Non Fat Organic products over January 2020, with 16.8 million pounds. Utilization of Class 1 organic Whole Milk in February 2021 was 13.62 million pounds with an increase of only 0.33% over February 2020 but an increase of 37% for total combined Non Fat Organic products over February 2020, with 17.94 million pounds.
These changes occurred with no change in the retail price for organic milk, both Whole Milk and Non Fat milk products.
Utilization of Organic Milk in the Federal Milk Marketing Order 1 in million pounds
| | | | | | | |
| --- | --- | --- | --- | --- | --- | --- |
| | Whole Milk | Increase over 2020 | Combined Non Fat Organic products | Increase over 2020 | Total organic products | Increase over 2020 |
| Jan-21 | 14.5 | 27% | 16.81 | 35% | 31.32 | 31% |
| Feb-21 | 13.62 | 0.33% | 17.94 | 37% | 31.56 | 18% |
Anecdotal reports are that selected organic dairy producers are being allowed to increase production, although Danone and Lactalis are investing more in plant-based 'milk'. There is more activity with buying and selling of certified cows and some milk coming into the northeast from the Midwest, but no reports of any shortages. With so much milk going into private label, it's difficult to know whether the bigger dairies are absorbing the increase in retail sales at the lower pay price that these larger dairies achieve with economies of scale and less expensive trucking of raw milk for processors.
The February 2021 US simple average retail price was $4.05, down 5 cents from the last month. At this level, the producer captures approximately 35% of the retail price. February 2021 in-store surveys of supermarkets in selected US cities show that averages prices for organic whole milk in the half gallon container ranges from $3.00 in Indianapolis, IN to $5.84 in Pittsburg, PA. Surveyed cities that experienced noteworthy changes in average prices from January 2021, include Atlanta, GA, down $1.01; New Orleans, LA, down 60 cents; Portland, OR, decreased 15 cents. The Cincinnati, OH, half gallon, organic Whole Milk average price increased 14 cents, while Denver, CO and Oklahoma City, OK both grew 10 cents.
Organic producers are eligible for the Dairy Margin Coverage program which is based on conventional pricing, not organic. With the uncertainty around demand and supply of conventional milk during the pandemic, complicated by government programs and high feed prices, those organic producers who signed up for the insurance program are projected to see an average return equaling 2020, which saw an average return of $16,000 per operation (USDA FSA). There was an increase in sign-ups for the Dairy Margin Coverage enrollment ahead of an uncertain 2021, with 68% of the country's dairy farms signed up for the program for 2021 before the December 11 2020 deadline, compared to just over 50% enrollment in 2020. The USDA released its latest Ag Prices report on Feb. 26th, including factors used to calculate monthly DMC margins and payments. The January DMC milk income over feed cost margin is $7.14 per hundredweight (cwt), triggering indemnity payments on Tier I and Tier II milk insured at all levels above $7 per cwt. Based on current market conditions, DMC will pay monthly indemnity payments well into 2021. With no floor price or insurance for organic production, organic producers who are interested in managing risk should be following the progress of the DMC to inform decisions for the sign-up for 2022 and possible inclusion of an insurance program for organic milk in the 2023 Farm Bill.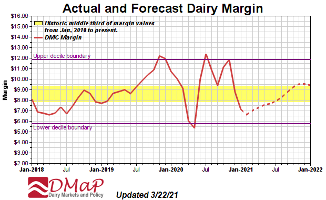 Horizon Organic expanded its Growing Years line with the introduction of low-fat yogurt pouches, cultured dairy smoothies, reduced-fat milk half gallons and single-serve whole-milk boxes. According to Horizon Organic, the transition from infant formula or breast milk to dairy milk can be a challenge for parents, as many worry their children won't get the nutrition they need. To help bridge the gap, Horizon Organic originally introduced Growing Years whole milk, the first line of organic dairy products developed with pediatricians in 2019, to help usher parents through this new phase and help them provide their children with the nutrients they need. Every serving of Growing Years organic dairy provides 50 milligrams of DHA omega-3 to help support brain health, a good source of choline to help transport DHA in the body and prebiotics to help feed good bacteria in the gut, Horizon Organic said.
CROPP Cooperative will introduce Organic Valley American cheese slices this May. "The cheese slices deliver all the melt and flavor consumers want, with ingredients that include organic butter and organic cheddar," said Kelly Slentz, cheese brand manager for Organic Valley. The organic American cheese slices are made with just seven ingredients, including butter produced from milk from pasture-raised cows. The American cheese slices will have a suggested retail price of $6.49-$6.99 for a 6-ounce package of eight slices.
CROPP Cooperative is partnering with Clean Energy Credit Union to launch the "Powering the Good Loan Fund" to provide the best loan terms for farmers seeking to reduce their reliance on fossil fuels with renewable energy. The loans will allow farmers to add solar systems, become more energy efficient, and add geothermal systems for heating and cooling. "We've got a lot of farmers that are interested in advancing renewable energy on their farms. What the fund is designed to do is give our membership access to money at low interest with favorable terms to do these things," said Bob Kirchoff, CEO of Organic Valley. This is comparable to what other electricity suppliers like National Grid and some states are doing across the country. I don't know many organic producers who are able to take on additional loans at this time; grants would have been more helpful and practical. I'm sure that the repayment of the loans will come directly as a deduction out of the bi-monthly milk check.
ORGANIC GRAIN FEEDSTUFF OVERVIEW
In looking at what to write about organic feed grains I was struck by this headline on Agri-web, "A recent survey of Corn Belt farmers conducted by Pioneer shows the greatest concerns going into planting season are too much moisture, too little moisture, and crop nutrition." In other words anything could happen. One of the concerns that organic producers have is weed control so too wet has its problems as does too dry on growth of the crop. The organic soybean price has increased by $5 a bushel in the last month as has soybean meal with price in the $1200 to $1400 range. With high prices for conventional corn and soybeans, and the US supplying only approximately 30% of organic corn and soybeans, the price going forward will be greatly reliant on enforcement of standards and a proactive approach by the National Organic Program. High conventional prices are the perfect time for a transition to organic production if the NOP can show they can provide consistent and timely enforcement of the standards nationally and internationally for a secure future at a price differential that reflects the true costs of organic production.
Attached Files:
Posted: to Organic Pay, Feed & Grain Prices on Mon, Apr 12, 2021
Updated: Mon, Apr 12, 2021