Scholten Family Farm, Weybridge, Vermont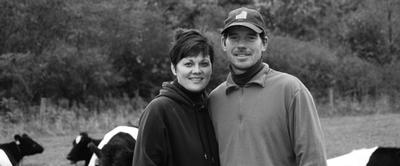 Roger and Patty Scholten started organic production two and a half years ago, and are already producing delicious artisanal cheeses.
By Cheryl Bruce
Added December 3, 2009. In May 2007, Roger and Patty Scholten purchased their first organic cows. Two and a half years later, they have a beautiful, well-cared for dairy herd and are making delicious organic cheese on their farm in Weybridge, Vermont. The story of how the Scholten Family Farm became certified organic starts much earlier than 2007, as the couple considered the options for their farm's future.
Roger and Patty started milking cows on their current farm in 1995. Patty describes the unstable non-organic milk prices as "sometimes very good, sometimes very low." Roger had the feeling of being on a treadmill he couldn't get off of. "We were a commodity," he states. In the barn, there is a sign hung defining the word crazy. It said 'doing something over and over again and expecting different results.' They knew they needed a change, but they weren't sure what that was. Do they sell everything? They and their four children were devastated at the thought of letting the farm go.
With some encouragement from close friends, Henry and Tata Harper, they got thinking more seriously about organic production. Roger put a lot of thought into the idea, planning for a couple of years before jumping in. He went to informational meetings about transitioning to organic dairy production and was a regular attendee at NOFAVermont's pasture walks. Pasturing cows was a totally new concept for Roger and he wanted to learn more. Roger says simply, "It scared me." But, he says, he got a lot out of these workshops. "Not only did I learn, but I got more comfortable with the idea every time I saw it. I would see it happening and these people were making it work." He started to envision how he would set up his own grazing system.
When the time came to take the leap, the Scholtens decided they would not transition their existing cows to organic production. Instead, in early 2007 they sold their non-organic herd. Six weeks later, in May 2007, they purchased their original group of organic cows, which they lovingly refer to as their 'mutt herd'.
These cows, which were purchased from a farm in New York, include several Jersey-Holstein crosses with a sprinkling of Normandie crosses, Brown Swiss crosses and Lineback cows as well.
Roger says that when he heard these cows were for sale, he went to see them. He then went back to see them again because he couldn't believe what he was remembering. The cows were not in great shape. They were not getting good quality feed and looked malnourished. Several of the animals had missing hair and sores on them. In many ways Roger and Patty rescued these animals from a less than ideal situation.
Patty says, "That first night we fed out so much hay." In addition they bought pallets of kelp, which was fed free choice for a month. Roger explains, "I had read and heard so much about kelp, and these cows looked like they were lacking something." Their cows kept eating and eating. At one point they were going through two bags of kelp a day, which supplemented their high quality pasture, forages and grain.
The first morning after the cows arrived at their new farm Roger and Patty realized the cows had to be turned out for the first time. They got over their initial fear when they started unhooking the cows from their tie stalls. They said they were pleasantly surprised that the cows knew what to do. They backed out of their stalls and walked out the door. Patty says, "We were astounded. They went out to pasture and we stood there and watched." "It was like a movie," Roger adds. "They were eating, and drinking and they knew what they were supposed to do. They followed the fence line and as soon as there was an opening, they cut in [to the paddock]."
Roger says that he saw positive changes with the cows right away, but significant changes in body condition and milk production were noted after 40-50 days, especially the condition of their coats. People who saw the cows shortly after their arrival have been surprised to see the remarkable changes in the cows' appearance since then. Roger says of the first herd, "Those are my babies." Patty says that the Dutch Belts, which were purchased in August 2007, are her favorites.
The friends that encouraged the Scholtens to become organic also played a role in their initiation to cheese making. The two couples attended a weekend cheese workshop at Larry Faillace's farm in Warren, Vermont, where he makes sheep's milk cheeses. Patty says of that weekend, "I fell in love with making cheese." While she uses a blend of the whole herd's milk for her cheese, the Dutch Belts lend butterfat and protein components that Patty finds ideal for cheese making. The idea of making cheese can be pretty intimidating for many people, but what is so admirable about Patty is that she jumped right in, and learned as she went. She admits, "I went in very naïve, which in some ways was beneficial. I wasn't overwhelmed." But she says, "It took longer to learn the basic cheese making skills."
After that initial weekend, Patty says she spent almost two years researching the necessary equipment, the start up costs and the types of cheese that could be made. She practiced making small batches of cheese at home and spent a summer working with Larry and learning more about cheese making.
Being organic was important for Patty in her cheese endeavor. She explains, "In order to carry the loss of any start up business, we needed to have stable milk prices." Roger agrees, "There was no other way. We were financially making a living, but there was no way to start another business." In addition to giving them stable milk prices, organic also gave them an organic cheese, which helped set them apart from the other artisanal cheeses.
The very first cheese produced by the Scholten Family Farm was a very simple fresh cheese, which had the consistency of a goat's milk chevre, but made with cow's milk. It was a hit at the farmers' market, but the problem was that stores wanted something with a longer shelf life. Although the Scholtens had built a state-approved cheese facility next to their barn, the idea of building an aging room or cave was cost prohibitive. However, they were able to join forces with Jasper Hill Farm in Greensboro, Vermont. The 'Cellars at Jasper Hill' provides cheese aging services as well as technical and marketing assistance to other cheese makers. With the help of co-owners Mateo and Andy Kehler, the Scholtens were able to further develop and improve their own cheese, making their product available to more markets.
Roger stresses that consistency is really important in managing dairy cows. Small changes can really impact the quality of the milk, including butterfat and protein content. Patty explains, "Whatever is done in that dairy barn is the heart of my cheese." With practice, she has gotten very good at making minor adjustments when necessary, but good management has kept those to a minimum.
Patty says, "I now have a lovely cheese. It's called 'Weybridge'." She has worked hard to perfect her recipe and she writes down absolutely everything so that if she needs to replicate something, she can. "I think now we are coming out with a fabulous cheese and I am proud to put our name on it," she explains.
The Scholtens say that they have had some very rewarding moments since they began organic production. Patty says, "The most satisfying thing is if someone tastes and loves our cheese. It connects us to our consumer." Roger adds, "We meet people that drink Organic Valley milk and they want to buy it. They believe the farmers are doing something special and they believe in quality farming." More than once they have had consumers of organic milk come up to them and thank them for doing what they do.
This year, the Scholtens are hitting their stride. They are seeing real changes in their pastures, with increased density and species diversity. The cows are healthy and they have found a recipe for a great cheese. Patty says, "We are very proactive in our management. Persistent and proactive, still working and being challenged, but we feel good." Roger adds, "It's a real feel-good story when you realize it's better than you thought it was going to be. You can see the difference in the animals, cow health, the soil, and even in yourself." Patty concludes, "Now farming feels like what farming used to be and still should be."
Cheryl Bruce works for Vermont Organic Farmers, the certification program of the Northeast Organic Farming Association of Vermont. She also spends a few nights a week milking cows and helping with other farm chores on a dairy farm in the Champlain Islands.
Posted: to Featured Farms on Thu, Dec 3, 2009
Updated: Thu, Jan 31, 2019