Jamink Farm, St. Andrews, Ontario, Canada
Thomas, Julia, and Felicity Booijink
Added November 15, 2016.
by Sonja Heyck-Merlin
Jamink Farm was established in 2014 as a 50/50 partnership between husband and wife Thomas and Julia Booijink. The unique farm name is a combination of equal parts: three letters from Julia's maiden name (James) and three letters from Thomas' last name (Booijink). More than a name, it's a symbol of the couple's shared passion for dairy farming. Thomas and Julia, along with their three-year old daughter, Felicity, and soon-to-be baby, milk 85 cows. 50% of the herd is Holsten and 50% is Jersey. Both breeds are registered.
The pair owns 500 acres in St. Andrews, Ontario, situated in the southeastern point of Canada's 2nd largest and most populous province. In 2015, there were 3,764 dairies in Ontario with approximately 75 certified organic operations. The majority of the organic farms are located in the southwestern part of the 415,598 sq. mile province. To put Ontario's size in perspective, New England, Pennsylvania, and New York combined amount to only 172,603 sq. miles.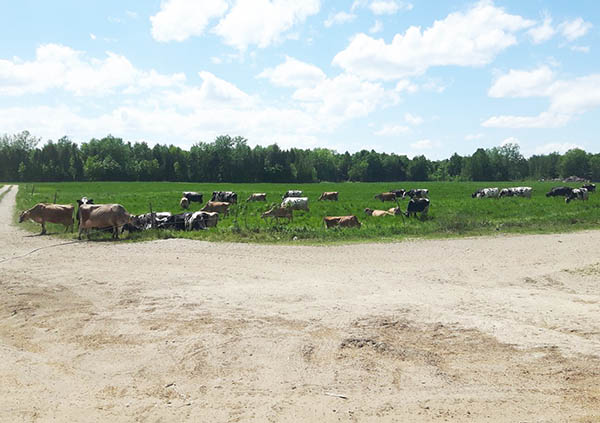 Mixed herd of Jerseys and Holsteins at pasture
Milk production in Canada is controlled by a quota system. Any farmer who wants to produce milk, conventional or organic, must have a quota. In Ontario, the quota system is administered through the Dairy Farmers of Ontario (DFO).
Of their 500 acres, 200 are tillable with the remainder in pasture and woods. They are currently clearing 100 acres of ground to create more pasture which will make it possible to meet all of their grazing needs on one side of a road. An additional 200 acres of hay ground is rented.
Thomas' family emigrated from Holland to New Brunswick in 1979, and eventually purchased the St. Andrews dairy farm in 1987. Little did Thomas know that two hours to the north, his wife-to-be was also growing up on her family's dairy farm and shared a passion for dairy.
Both Thomas, 34, and Julia, 33, pursued post-secondary degrees in agriculture. After college, Thomas spent nine months in New Zealand, and then returned home to work alongside his parents and for some neighboring farms. In 2013, Thomas' parents split the farm between he and his brother. Thomas purchased the cows, quota, and 500 acres. His brother purchased 120 acres of the home farm and currently operates a goat dairy.
After graduating from the University of Guelph, Julia worked for two years as an AI technician for ABS Global Sires. In 2008, she purchased her parent's herd and quota and moved her 30 milk cows and replacements into a rented barn about five hours away from her hometown. In 2012, she was fortuitously introduced to Thomas by a college friend.
"My cows took a circuitous route back to their origin," Julia said of the return of her herd back to the southeast of the province. Although Thomas' parents were certified organic in 2002, the amalgamation of the two herds required a second transition which was completed in December of 2015. Their certifier is Eco-cert. In order to merge their herds, Julia and Thomas also had to obtain a quota policy exemption from the DFO.
All of the milk, both conventional and organic, which is produced in Ontario is sold to DFO who then sell the milk to processors. "There are times when our milk is not sold as organic," said Thomas. "It's really an unfortunate part of our system." The couple receives a 29% premium over conventional milk when their milk is utilized as organic. Generally, 95% of Jamink's milk is utilized as organic but utilization can drop down to as low as 85%. At 100% organic utilization, Julia reported that they are making roughly $33/cwt. USD.
The GEA MIone milking robot
The couple's expertise, youth, and relatively stable milk prices provided them the confidence to recently embark on a major infrastructure project. In 2015, they obtained financing to build an 85' by 247' bedded-pack barn equipped with a robotic milker. The barn was completed in January of 2016, and was constructed with the intent of growing their herd of 85 milkers to 100.
Thomas explained, "It's a very simple large rectangular building with the milk house and robotic area at one end. We bed with sawdust every 7-10 days and use a four-wheeler to pull a harrow over it twice a day. It works the manure into the sawdust enough to keep the top two inches dry."
"We also installed a Cow-Welfare Flex Feed fence into the new barn," Thomas said. With a flexibility of 30 degrees forward from vertical, the Danish made feed fence follows the cow's movements. The flexibility allows the cow to reach further out into the feed ally. It's made from plastic tubes fastened by a pivot at the bottom and open at the top.
When a cow presses its shoulders at the plastic pipes, the whole construction moves forward, thus preventing injury to the neck and shoulders. Thomas went on, "It's really comfortable for the cows and makes it easy to accommodate the size variation in our mixed herd. The neck rail in the feed alley of the old free stall was too high for the Jerseys."
With the service dealer only 15 minutes away, Thomas and Julia chose a German GEA MIone robotic milker for the new barn. The MI is an abbreviation for "milking intelligence." This robot sets itself apart from other milking robots because it utilizes one robotic application arm to service up to 5 milking boxes. The Booijink's robot has two milking boxes allowing the robot to milk two cows simultaneously.
"If you want to put a robot in to spend less time in the barn, that is 100% the wrong decision," Julia said. "Robotics has allowed us to spend more times on certain things and has added flexibility to the times when we need to be in the barn." Thomas added, "Robots are practical if one of your goals is to maximize production. They are not for everybody."
The robot generates a lot of data. It has been a learning curve for Julia and Thomas to decide what information to use and how to use it to make management decisions on the farm. "The activity monitoring of fresh cows is very helpful," said Julia about one way they are utilizing the data. "It gives us an alarm before the cow is clinically ill."
They also appreciate the robot's ability to pick up on slow quarters, measure milk conductivity, and measure milk flow. Right now they are trying out new inflations and paying close attention to the pound of milk per minute reading that the robot shares with the push of a smartphone button.
Dry matter intake from pasture has remained consistent with the switch to the robot. The milk cows average about 35% DMI from pasture over the course of the grazing season. Every 12 hours the herd is given a new paddock, and in order to access the new grass the cows must make a trip through the robot. If they choose to come back to the barn they come through a set of one-way gates which requires them to be milked again before they can return to pasture.
"We actually have to fetch a lot fewer cows when we're grazing." We're averaging about 3 milkings per day during the grazing season and only 2.5 during the cold months," they noted. "It's been a tough year with the lack of moisture and keeping the cows coming through the robot has gone surprisingly well."
Each cow gets roughly 6.6 pounds per day of a dry corn, wheat, and soy mash while they are in the robot. The remainder of herd's dry matter comes from a TMR of haylage, corn sileage that they grow on the farm, and spent brewer's grains from a local organic brewery. The brewery delivers a 12-ton load each week for $60/ton.
"We like working it," said Julia about the brewery bi-product. "It comes to us quite wet, about 70% moisture but the cows love it. We recently built three little mini bunkers that can each hold a 12-ton load. We cover it and force it through a fermentation process for three weeks before it goes into the mixing wagon." Because of the high moisture levels in the brewery grain they provide free choice dry hay year-round. "It's all about controlling the environment of the rumen and making sure it doesn't become too acidic," Julia said.
The Booijink's rely on a custom operator for their chopping. "We invested our money into the new barn right now," Thomas explained, "rather than equipment." There are five custom operators in the area and the couple said they are thankful they are able to easily source out this part of the operation. Compared to the feed they used to put up, they notice a significant difference in quality. "The amount of feed they can put up in 24 hours compared with what would take us a few weeks, we definitely gain on the quality side," said Julia.
Currently, all their haylage is stored on the ground, covered with plastic and tires. One of the next steps is to create a better feed storage facility. Unhappy with the spoilage they've seen with ag bags, the couple hasn't decided on a permanent solution to feed storage.
The marrying of the farm's feed program with a milking robot has driven current production to 66# per cow/day with butterfat at 3.94 and protein at 3.3. Pre-robot production was about 50# per cow/day.
The couple uses 100% AI; their philosophy being that AI is the most effective way to improve the genetic potential of their herd. Heifers and the top 10% of the milk herd are bred with sexed semen. The criterion for the top group is based on milk quality and genetic history. The middle group is bred with traditional semen and the bottom 20% is bred to beef. "We've done some," Julia said of genomic testing, "but I don't think we'll continue to do it since it didn't really tell us anything we didn't already know. We can look at cow health and production records and make just as informed decisions."
Julia, a former AI technician and occasional AI instructor, explained that use of sexed semen is becoming more widespread in her area, in particular because of an overall Canadian milk shortage. Several large scale studies that used sexed semen in dairy heifers indicate that pregnancy rates are 10% to 20% lower with sexed semen compared to traditional semen (appliedreprostrategies.com).
Julia countered that the sorting technology used for sexed semen has improved and that "the fitness level of the retained sperm cells in the sexed semen can be just as high, if not higher, than in a conventional straw."
The calves from the bottom 20% of the herd are sold at one week of age. Still in a growth phase, the remainder of the heifer calves stays on the farm. The new milking barn has allowed for improvements to their entire replacement program- their old parlor and holding area has been retrofitted as a calf nursery and the free-stall has been freed up for dry cows and bred heifers.
Fresh cows are sorted and milked with a bucket milker, and within two hours of calving a calf will receive her first bottle of colostrum. Colostrum is tested with a refractometer which provides a digital reading based on the Brix scale – a graduated scale that indicates the weight of sugar per volume of solution. A Brix value of 22% or greater can be considered high quality colostrum. At Jamink Farm, they only feed colostrum at or above this threshold and collect and freeze any surplus.
Calves are kept individually for the first few days of life and then are moved into groups of 2-3. At 14 days they are moved into group pens of 4-6 and mob fed on Milkbar feeders. Cross sucking occurs occasionally, particularly with the Jerseys, but they said, "With cross sucking, the only fault is ours and it's because we didn't change the nipples. If you don't change those nipples every six weeks, you'll definitely increase cross-sucking."
In general, calf and cow health is excellent although one of the couple's current goals is to drop their SCC by 100,000. SCC is currently running 250-300,000. Since most of the new mastitis infections are in fresh cows they are focusing their attention on their dry cow program. The new barn has allowed extra space for the dry cows and they are using the robot to more gradually reduce the grain, ensuring that milk production has dropped before dry-off.
For new mastitis infections they follow a treatment protocol: 50 cc Vitamin C and 20 cc Vitamin B-12 intravenously, 10 cc selenium subcutaneously, and 20 cc of a colostrum-based whey extract intravenously. They usually see positive results after one treatment but may administer it for up to three consecutive days.
Mastitis protocols, a carefully calculated breeding program, and a willingness to embrace technology are only a few examples of Thomas and Julia's educated and attentive approach to dairying. Always keen to learn, Thomas and Julia recently traveled seven hours to attend the 16th annual NODPA Field Days. "We don't have as many opportunities as we'd like to network with other organic farmers," Thomas explained about the lack of learning opportunities in their area, and "that is why we traveled to the Field Days." The couple compensates for the lack of an organic network with their 60-plus years of combined farming experience and stacks of reading material.
Jamink Farm is an awesome fusion of intuition collected from growing up on farms, scientific context gained in college, and a continued thirst for knowledge. The passion and commitment of this family will hopefully add momentum to the growth of the organic dairy industry in Ontario.
Posted: to Featured Farms on Tue, Nov 15, 2016
Updated: Tue, Nov 15, 2016