Organic Milk Pay, Feed and Retail Price, July 2016
Update
By Ed Maltby, NODPA Executive Director
Added July 26, 2016. USDA AMS data shows a continuing slight increase in retail sales of organic fluid milk for 2016 over 2015 with sales up by 4% January through April compared with the same period in 2015. Sales of organic whole milk are up 15.6% in April 2016 from sales in April 2015. New England continues to see strong growth in utilization of organic whole milk as reported by the Federal Milk Marketing Order 1 with organic milk utilization up by 32% in May 2016 over May 2015. As we recognize that the organic dairy and beef market is now worldwide with imports of organic milk, organic milk powder and organic beef manufacturing trim increasing, attention needs to be paid to changes in Europe, especially with the exit of Britain from the European Union. The sales to China that Organic Valley has been channeling through Britain may get more difficult if the terms of export are less favorable for an independent United Kingdom. Organic farm gate pricing for organic milk is trending higher than a year ago as increases in sales of organic milk rise in some countries but weakening retail prices may well impact the farmgate price relatively quickly. The EU farmgate price is approximately $26.50 per 100 lbs. of milk. Comparatively retail prices in the EU are lower by about 35%.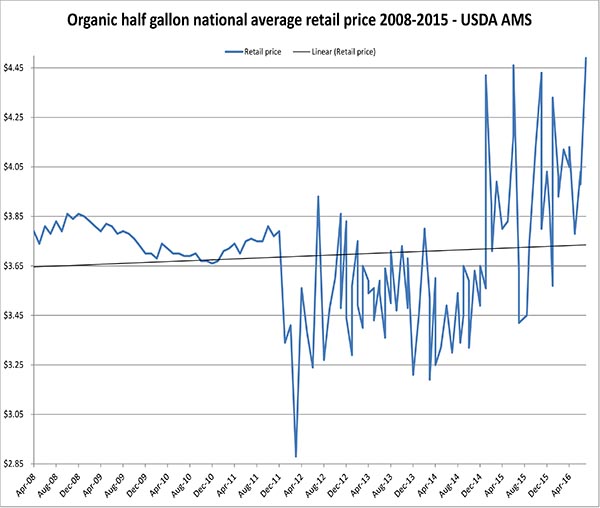 WhiteWave announced that they will be reducing the MAP by one dollar as producers are seeing lower feed cost and a claim of a surplus of milk of up to 5%. There is no word yet from the other companies about their plans. For years, some processors have imported ever increasing volumes of low priced organic powdered milk, butter, and cheese, making it difficult to judge the actual supply situation. With imported powdered milk selling for about $2 per pound, and U.S. powdered milk sells for closer to $5 per pound one can see why some cooperatives and manufacturers are importing product rather than building the sustainability of the domestic supply. Whether supply is long or not, and we have no independent proof of that, there is a steady increase in consumer demand for retail fluid product and a continued high demand from processors, making a reduction in pay price unjustified. Receiving a reasonable pay price has allowed producers to pay down debt or make needed repairs and upgrades, plus a higher pay price will encourage more small to mid-size operations to transition to organic production. There are reports from the west of the transition of large herds to organic production using the various loopholes still available under some certifiers for continuous transition while we await the publication of the origin of livestock regulation. The next thing out of the mouths of processors will be a request for lower volumes of milk and penalties for over production. After the debacle we had the last time that was tried, with numerous producers being treated unfairly, it will not be an attractive option for producers given the low price of conventional milk.
The French dairy giant, Danone, that is behind brands like Activa, Oikos, Dannon and Stonyfield yogurt, announced on July 7, 2016 that it will buy WhiteWave Foods in a deal worth $12.5 billion in cash, immediately raising questions about the future of the organic supply market. Danone will now control the Horizon, Stonyfield and Wallaby organic yogurt labels and this will impact Organic Valley, which will be Groupe Danone's primary rival in the marketplace. There are many questions that will need to be answered once the deal is completed--how will it impact competition in the marketplace and whether producers can obtain a fair pay price. Currently, Organic Valley supplies Stonyfield with raw milk and has a licensing agreement to market packaged, fluid milk under the Stonyfield label. Stonyfield has also built its own supply in the Northeast. It's not a surprising coincidence that as WhiteWave lowers it pay price to producers by $1 per hundred pounds, shareholders of WhiteWave saw an increase of up to 24% on their share price.
Posted: to Organic Pay, Feed & Grain Prices on Fri, Jul 1, 2016
Updated: Fri, Jul 1, 2016