Feed Price Summary August 2012
Added August 6, 2012.
Corn Price Update August 1st 2012
National Organic Grain and Feedstuffs Report
Information provided by the USDA livestock and Grain Market News, who have combined their reporting into one national report.

Compared to last month, national organic grain and feedstuffs were mixed, with light to moderate demand and light offerings. Corn averaged a slightly lower price, while beans averaged a higher price. Much of the corn movement this period was comprised of partial loads, as the supplies in most areas are very sparse. Drought concerns have halted new crop contracting for some farmers, who are reportedly waiting to see what their harvest will look like this fall before taking further steps to market new crop grain.
Concern over market prices is on the minds of many, with some feeling as though the market should and will go higher, but with others very concerned that higher prices could later result in detriment to feed ingredient markets similar to that of the wheat market after the price spikes of 2008. Time will tell in these matters, but there is significant concern as to how these prices can continue in the current economy.
Feed grade rye was lower on a light test, while movement on wheat increased somewhat this period due to new crop harvest in progress.
Fair/good alfalfa hay in the North Inter-Mountain area of California is currently 200.00/ton, while good quality alfalfa hay in the Sacramento Valley is reportedly 237.00/ton this period.
Prices negotiated spot market, FOB the farm. Prices quoted $/bushel, except soybean meal ($/ton and FOB the mill) and roasted soybeans, $/ton. Hay reported FOB the stack or barn unless otherwise noted. Soybean oil, sunflowers, spelt, cents/lb.
| | | | | | |
| --- | --- | --- | --- | --- | --- |
| | June 2012 | May 2012 | April 2012 | 2nd qtr. 12 | June 2011 |
| Feed Grade Corn | 15.07 | 14.44 | 13.61 | 14.22 | 11.35 |
| Food Grade Soybeans | | | | | |
| Feed Grade Soybeans | 28.05 | 27.83 | 25.88 | 27.37 | 18.95 |
| Feed Grade Oats | 5.5 | 5.2 | 5.69 | 5.5 | 5.20 |
| Feed Grade Barley | | | | | 7.88 |
| Food Grade Wheat | | 14.3 | | 13.72 | |
| Feed Grade Wheat | 10.43 | 10.98 | 10.69 | 10.68 | |
| Soybean meal | $1248.11/ton | $1,241/ton | $1,1108/ton | $1,177/ton | |
| Feed Grade Peas | | | | | 10.27 |
| Organic Alfalfa - Premium | | | $237 | | |
| Organic Alfalfa – Good | | | $200 | | |
| Organic Grass Hay | | | $150 | | |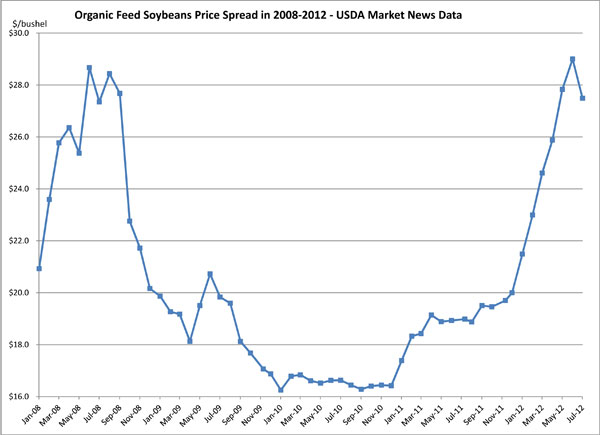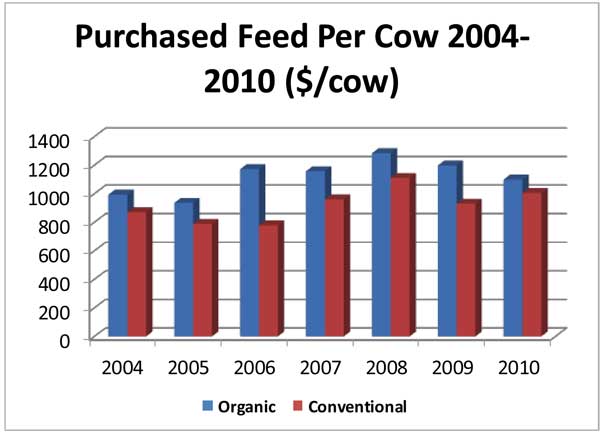 Courtesy of Bob Parsons, University of Vermont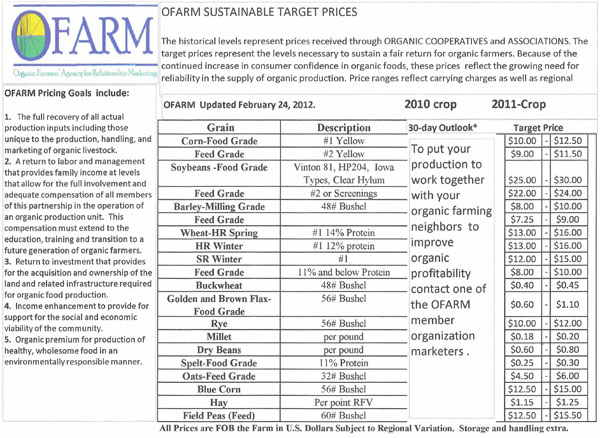 Located below are the links to latest organic price reports.
National Hay, Feed & Seed Weekly Summary http://www.ams.usda.gov/mnreports/lswfeedseed.pdf
Bi weekly National Organic Grains and Feedstuffs: http://www.ams.usda.gov/mnreports/lsbnof.pdf
Posted: to Organic Pay, Feed & Grain Prices on Wed, Aug 1, 2012
Updated: Wed, Aug 1, 2012