Springside Farms, New Vineyard, Maine, owned and operated by Randall and Jill Bates
By Tamara Scully, NODPA News contributing writer
When Randall Bates, of Springside Farms in New Vineyard, Maine opted to become a dairy farmer, he embarked on a long journey to fulfill his lifelong dream. Randall had dairy farming in the blood, passed down through both sets of grandparents, as well as his great-grandparents. While he inherited the desire to dairy, he did not inherit the dairy farm.
Although Randall partially grew up on the farm he now owns, the journey to dairy ownership was not one of succession planning. The "bulk tank purge" of the 1960s meant that small dairy farming was no longer a feasible means for any generation of his family to make a living as dairy farmers. And no one else was optimistic that dairy farming could be Randall's choice of career, either.
Once he graduated high school, Randall began working full-time in a non-farming job. But his heart and soul were calling him to become a dairy farmer, and continue his family's dairy farming legacy. So he did.
Since he purchased his first farm, Randall has been busy fulfilling his life's quest, and has proven that following your path in life might not be considered the reasonable thing to do, but can be the right thing to do to find fulfillment and purpose, and to thrive.
"This is all I ever wanted to do, and this is the only place I ever wanted to do it," Randall said of dairy farming, which he now does full-time, on land that belonged to past generations of his family, reviving the family dairy farming legacy into a successful business.
And now, he's actively working on a plan to keep his dairy farm thriving, and allow the next generation of dairy farmers to be able to live that dairy farming dream.
Dairy Farm Journey
Shortly after graduating high school in 1976, Randall began working a full-time job, and he set out to purchase his first farm. In 1977, he purchased the first farm, located one mile up the road from his grandmother's farm, which had belonged to his maternal great- grandparents. In 1982, with no infrastructure on the farm except " a two hundred year-old barn with a hole in the roof," he purchased his first heifers and set to work bringing back the now-defunct dairy back to life.
When Randall first shipped milk commercially, in 1987, he recalls that at that time the local creamery was eager to pick up milk from his 150 gallon bulk time. He was milking eight cows. As per Randall's recollection, they told him "if we can measure that milk on that stick, we can come get it."
Randall has grown the dairy from a rundown barn into what is today's Springside Farms by continuing his full-time manufacturing job for many years, transitioning to part-time off-farm work, and finally dairy farming full-time since 2003. He added animals and infrastructure slowly, and began the transition to organic in 2003, under the old "80/20" rules, becoming certified organic - by MOFGA-in 2005.
Randall married his wife, Jill, in 1985, when there were 12 animals on the farm, and their milk was primarily used to feed veal calves. Jill was no stranger to dairy farming, having grown up on a dairy where her family milked Ayrshire cows.
"My marriage to Jill, more than anything I have done, insured the success of the farm," Randall said with sincerity. The couple worked together over the years to raise their children, and to create the successful dairy farm which now consists of Randall's grandmother's farm - the 480 acre "big" farm which he finally was able to purchase in 2005, at age 47 - as well as the original home farm he purchased in 1977, known as the "little" farm, consisting of 64 acres.
Today they milk 55 head, on average, in a tie-stall barn with 36 stalls, and ship to Organic Valley. While his grandparents' herd consisted of milking shorthorns, his herd is a mix of Ayrshire, Holstein, and some Jersey, plus a few crosses. He likes the Holstein for the quantity of milk they produce, the Ayrshire fit well with his grazing dairy, and the Jersey cows are there for the components.
"I never intended to have a mixed herd," Randall, who had to purchase whatever cows were available early on in his dairy farming days, said. "I don't find any particular breed has a health advantage over any other breed."
Organic Transition
In 2003, when transitioning to organic, Randall and Jill were milking 27 head at the "little" farm. But they just weren't large enough to do what they wanted to do with the dairy. His grandmother was ready to sell her farm, and they were able to purchase it, allowing them to explore organic certification. The farm was in disarray, and outspoken family members didn't shy away from sharing their opinions on the sanity of that decision. But they needed the land in order to grow, and Randall had always dreamed of farming it.
The original "little" farm has 25 open acres of pasture, where the heifers now roam during the grazing season. The land is permanent pasture. The woodlands are in Forestry Management Plan.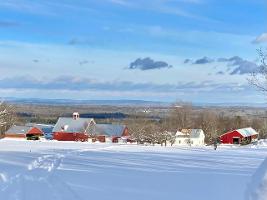 At the time of their transition, they sold their milk to Hood. In 2009, Randall sought out Organic Valley, who was seeking new organic dairy farmers in the region. Randall opted to make the transition for financial reasons. Getting paid a significantly higher amount for the milk was the main impetus in exploring certification.
The purchase of Randall's grandmother's farm added 40 acres of permanent pasture, and another 65 acres of ground which is utilized both for pasture and hay. The remainder of the farm in is woodland, and is under a Forestry Management Plan. They are just renovating eight acres of woods into pastures this season. Pastures at both farms are a mix of clover, bluegrass, timothy, orchard grass - with which Randall has a love/hate relationship, and other common pasture species.
Randall is not the biggest fan of orchard grass, and neither are his cows. Wet or dry, the orchard grass does yield well. But it matures earlier than anything else in the pasture, and his cows resist grazing it, as they much prefer to graze a pasture mix.
Achieving the required dry matter intake from pasture grazing was never a concern or a challenge. The herd averages 60 percent of their DMI from grazing in-season, and they were already at that point when managed conventionally. Randall was not feeding much grain when conventional, either. Prior to conversion to organic, the herd was already outside every day, too. While the Bates were already grazing the herd, they needed more land for pasture and hay, and more cows for milk, in order to successfully transition to certified organic production. They also rent another 150 acres for hay production. Hay is their only crop, as they do not grow corn for silage, or any grains.
Prior to going organic, Randall was concerned about no longer having antibiotics available routinely. At the time, a common comment from the conventional dairy farmers in the community when discussing organic dairy farming was the refrain "I'm not going to let all my cows die," Randall said.
Ironically, he's found that since going organic, he doesn't miss the stress of giving antibiotics to cows on a routine basis, and he's only had to treat a cow with antibiotics on a very few occasions over the years. And more than that, his herd has few health issues that cannot be successfully handled under organic standards.
"I would have lost them whether I was organic or not," Randall says of the few cows lost to health complications over the years. "If organic went away, there's very little I would do differently," with any aspect of the farm or herd management.
Farm Infrastructure
Randall was using chicken litter for fertility on the fields, and would still do so today, but his local source went out of business. He now uses manure from the two bedded pack barns - one 32 by 100 foot structure for the heifers, and one 90 by 120 foot structure for the cows - to capture and add fertility in bulk as needed to the pastures and crop land. The bedded pack for the milking herd was added in the spring of 2017. In 2022, the heifers were moved into their bedded pack, replacing the concrete pad at the little farm, which provided winter shelter for them in the basement of the barn.
The bedded pack barns "changed our family life tremendously," Randall said. "Two people can do this" when the cows were moved from the old tie-stall facility where they are still milked, and into the sawdust bedded pack barn.
Prior to the change, the chores had to be done in order to get the cows milked in the tie-stall barn, and feeding baleage both in and outdoors was labor-intensive. And it changed the lives of the cows, too, who absolutely love it, Randall said. Today, the cows' bedded pack barn has a center feed alley, and they use a skid steer to feed baleage twice per day. The heifers are fed once per day, at their southern-facing feed alley.
The manure from the barns is scraped out daily each evening, and the pack is bedded daily with fresh sawdust.. The manure is collected and stored. They spread 50 acres of pasture in the fall, which is all they have the time to do, and after taking the first crop of hay, they then spread the rest of the hay ground.
With the constant rain, the first crop of hay was just taken in mid-August, when it was taken in June 11th of 2022! That has delayed manure spreading, too. A lot of the land is lower lying, and it takes time to dry out from any rains. This year is a poor crop year. The volume of forages is about the same as normal, but the quality is lacking. Randall will supplement with grain to make up for any nutritional differences. This year, the farm has received 35 inches of rain since the beginning of May.
"I've never experienced anything like this," Randall said of the large amount of rainfall.
The Bates' have added a few other enterprises to their dairy farm. They do have a highly rated Airbnb vacation rental apartment available on the home farm. Each season, they also plant three acres of pumpkins, gourds and squash, which they sell from their front lawn, much to the delight of the locals and any visitors. They've been doing so for over 30 years, and sell out each season by Halloween.
"I believe in farming the whole farm. You take advantage of the niche things you can find that work for you," Randall said. "We don't have all our eggs in one basket," Jill added.
The "big" farm, located at the end of a dirt road, has been fully renovated, as Randall has wanted to make it as turnkey as possible for the next generation to step into his shoes. Unlike when he began his farm, he'd like for the next generation to begin with functional infrastructure, healthy cows and fertile pastures.
The next generation, however, won't be their bloodline. The Bates' adult children are not planning on carrying on the dairy farming tradition. Instead, Randall and Jill have turned to the Dairy Grazing Apprenticeship (DGA) program in an attempt to pass on their dairy grazing knowledge through mentoring and gain an extra set of hands in the process, and find the right match, enabling them to put a plan in place to transfer the farm to a new generation- and family - of farmers. Their second and current DGA placement is Stephan Dolan, who along with his wife, Rachel, and their four young children, is considering a dairy farm purchase. "My goal is to find succession," Randall said. "It's a trickier goal than if you want to work on a dairy farm and try it out."
Milk Matters
The cows are still milked in the tie-stall, and there are no plans for a parlor. Milking in the tie-stall twice per day does mean shifting cows in and out to accommodate everyone, but it works well for them.
They use DHI to garner a lot of information on their herd, but monitoring SCC is their number one reason. The average somatic cell count this year is about 135,000. And it was 150,000 in 2022. Anything under 200,000 is acceptable to Randall. He culls for SCC or for reproduction issues. The average lactation is four years, four months as per the herd's records.
The fat percentage is 4.1 on average in summer, while protein is at 3.1 percent. Solids are 4.5 percent. The average production is 45-50 lbs. of milk per cow, per day.
They raise 15 of their own heifers each year to maintain the herd size and productivity and sell all other heifers and bull calves. The lower one-third of the herd is bred to beef. The beef calves are sold, too, as they do not have the facilities to raise beef. They will purchase a bull calf and raise it for breeding the heifers. Breeding is via AI for the cows, and bulls are almost always used for the heifers, whether they are bred for dairy or for beef.
Genetic focus is on medium size cows, with "decent feet, legs and udders, and for a "low maintenance, healthy cow," Randall said. It's rare that he will cull for low milk production, as long as the cow is breeding back, and has no other issues.
"It takes a lot of milk to make up for issues with a cow," Randall said, explaining why production is lower on the list for culling than SCC, which is his primary and most common reason for culling.
Calf Care
Vaccines are not used at all in the herd, including the typical ones often given to calves. The herd has remained healthy without vaccines for many years, Randall said. They've had no issues with pneumonia, and treat any scours that arise by catching it early, and utilizing several natural treatments. Jill is in charge of calf care, and explains how she cares for any calf with scours.
Jill remains alert for any sucking issues, which she tries to catch immediately, and if they occur, she then begins a regime of acacia powder dissolved in water and bottle-fed to the calf. She also adds two or three whipped eggs into organic yogurt, and finds that this combination usually works to treat scours if caught early enough. The eggs help to bind the digestive system and stop dehydration, and the yogurt provides probiotics, she explained.
In severe cases, they have recently begun to utilize electrolytes. These are not fed with milk, but separately, with electrolytes given four to six hours after milk feeding. This means Jill is in the barn at noon and midnight, should the need arise. This is needed when scours isn't caught early enough, and the standard treatment regime won't work. With the addition of the electrolytes for severe cases, they don't lose many calves to scours. Calves that can't suck are intubated, to insure that they receive the electrolytes.
Calving occurs year-round, as the money for calf sales helps to balance the books. They tie the calves up for the first three or four weeks. They do this, Randall said, because they milk in a tie stall, and replacement heifers need to know how to get up and down when they are restrained. This also is needed when the cow is being bred, and if the veterinarian needs to see a cow.
The calves are next moved into group pens. Randall is ambivalent to calf group housing pens. The negative is that the calves suckle one another. They do use an occasional weaning ring if this becomes too severe. They haven't had any problems on calving out, however, he said. The group pens do make calf care more efficient. Calves are grouped by age, and the pens are in the milk barn. At six months, the calves graduate to larger group pens, where they can access the outdoors year-round. The next stop is the heifer bedded pack, or the pasture, depending on the time of year.
The calves are initially fed the high SCC milk and the pipeline rinse. Weaning happens at four months of age or a bit later, as the amount of milk fed is gradually decreased. Creep feeding of hay and grain is introduced soon after the calves move into the first group pen, to help reduce the urge to suck. Randall feels this system has worked well for him throughout the years. Once weaned, the heifers are no longer fed grains. Baleage is fed to supplement pasture forages.
The veterinarian is not used regularly, and they do not use a nutritionist. When they do need the veterinarian, Randall has found that the local veterinarians are "supportive and knowledgeable" about organic dairy farming.
Cow Chow
The cows are fed an average of 11 -12 pounds of grain year-round, as a dairy grain pellet, and are fed baleage off-season in the bedded pack. Kelp is added into the grain to increase the calcium intake. The cows start the grazing season somewhere around May 22nd, in one of the 16 permanent paddocks, and are rotated through each of these. The time spent in each paddock is generally fixed. Paddocks are roughly two acres each, and the cows are moved daily to a fresh paddock.
After the paddocks are grazed, the cows are moved to a few acres where a first hay crop has already been harvested. The cows graze these fields until early September, when two 25 acre hay fields are made available, after the first and second hay crop have been harvested. The cows are let in to graze an entire field for six days before being moved to the second field for six days. After that, it is time for them to regraze the permanent pastures, rotating through each of the sixteen paddocks again. Sometime "well into October" the cows go back into the two 25 acre fields until late October or early November, when they move into winter housing in the bedded pack.
Randall's grazing plan is partially influenced by the fact that he and Jill, along with their DGA apprentice, provide all the labor on the farm. It would be too labor-intensive to divide the larger hay fields into smaller paddocks for grazing, and move the cows several times per day.
Organic Thoughts
"I've seen organics evolve into the same problems that conventional people have had," Randall said, and he'd like to see organic leadership "be more proactive for their farmers," with a more balanced focus on actual dairy farmer concerns, rather than an intensity of focus on the consumer perception and perspectives. Smaller family farms, with a focus on animal care have been replaced by big industrial-style farms, and the money from organic sales has "been diluted" as the organic dairy sector has become "commoditized."
"When we started shipping milk in 1987, there were about 1,100 dairy farms in Maine at that time. Now that number is around 170. We (the State of Maine) still produce about the same amount of milk, though," Randall said, "A sobering reminder of how much things have changed," across all segments of the dairy farming industry.
Randall also notes that the cost of being a small organic dairy farmer has increased over the past several years, but the compensation has not, making organic dairy less attractive than it once was for struggling farmers who might want to convert, and for those trying to survive in organic dairy farming.
Transitioning to organic did save the farm, however. "If we remained conventional, we never would have survived and got to where we're at," Randall said.
Randall and Jill Bates can be reached at Springside Farms, 577 Anson Valley Rd, New Vineyard, ME 04956-3006, 207-779-6156, bates@tdstelme.net
Posted: to Featured Farms on Sun, Sep 17, 2023
Updated: Sun, Sep 17, 2023