Organic Milk Pay, Feed and Retail Price, January 2016
Update
By Ed Maltby, NODPA Executive Director
Added January 25, 2016. Recent data published by the USDA AMS show a continuing slight reduction in retail sales of organic non-fat fluid milk for October 2015, and a small increase in sales of full fat and 2% fluid milk. While retail fluid sales have declined, the retail price has increased and there are still shortages on supermarket shelves. The drop in sales can be attributed to a shortage of supply and milk being diverted to manufacturing as demand for the higher margin organic dairy non-fluid products is increasing. Producers are continuing to use the end of their contract and cooperative agreements to move to other buyers, especially more regional buyers in the northeast. Conventional producers are examining their ability to transition to organic production, especially with the lower conventional price in 2015, which has resulted in enquiries to NODPA from Farm Credit about the state of the organic dairy market, as there is no independent data at the USDA. The only Federal Milk Marketing Order to publish data on organic utilization is Order 1 (Northeast) and their data show that utilization of organic whole milk had increased by 25% to 13,068,122 lbs. in November 2015 compared to 10,452,276 lbs. in November 2014. Non-fat and Reduced Fat organic milk utilization only increased marginally by less than 1%. Those transitioning to organic and their advisors should always be aware of the learning curve on livestock husbandry skills and practices and also pay close attention to restrictions imposed by their land base, plus the increased cost of organic dairy production as clearly expressed by Bob Parsons' ongoing study.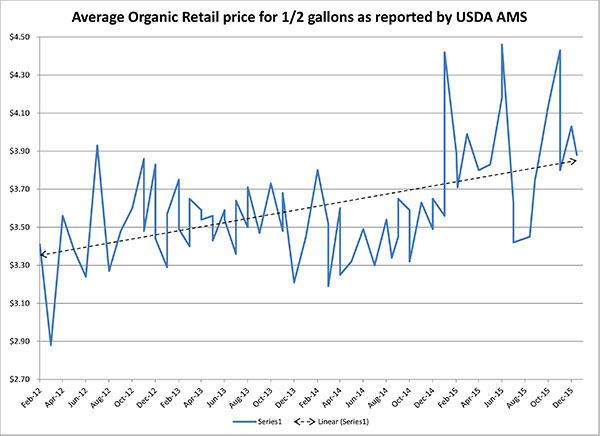 The request by the Organic Trade Association (OTA) to change the Federal Milk Marketing Order to exempt organic milk from some of its provisions to facilitate an increase in supply of organic milk has brought a number of different comments. In response to OTA's argument, the National Milk Producers Federation (NMPF) commented, "If current pricing arrangements are indeed failing to bring forth an adequate supply of organic milk to meet consumer demand, then elementary economic theory would suggest that adjustments to the pricing structure for organic milk at retail are called for. OTA's proposed solution to eliminate producer settlement fund obligations effectively proposes that dairy farmers should subsidize the production of organic milk in lieu of rectifying the mispricing of it." OTA says it is petitioning for the change to benefit producers pay price but can't make any firm statement because of anti-trust laws. Today, the OTA's Organic Fluid Milk Working Group's member companies are: Aurora Organic Dairy, CROPP Cooperative, d/b/a Organic Valley, and White Wave Foods. It's not often that we agree with the NMPF, but their comment is a no-brainer and they are as skeptical of processors intent as producers are.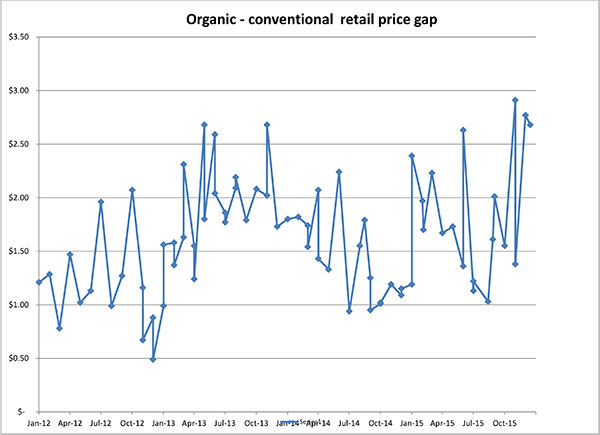 One question that USDA AMS asked OTA that we could answer easily is, "Please provide any alternative solutions that OTA considered that may increase the supply of organic milk." The obvious answer is to increase pay price to a level that reflects an adequate return on investment and living wages with an automatic cost of living accelerator. None of OTA's members have ever tried that. Currently, the USDA AMS is considering OTA's reply to the questions the USDA has raised about who would benefit from a change in the FMMO; we will see if this makes it to a hearing.
On the grain front, organic growers are finding the market distorted by cheaper imports and are unable to obtain long term commitments. This is similar to the pressure on organic beef and organic milk powder and cheese from imports. The strength of the dollar obviously complicates any assessment of the situation but it's a sign of the times that organic buyers of many commodities are treating producers as they would conventional producers. It's no wonder that there is no rush by domestic growers to transition to organic, despite the price differential of $8 or $9 per bushel. Obviously, they are increasingly aware that the different price will soon get eaten away with the cost of transitioning, the resulting change in production practices and the change in market conditions.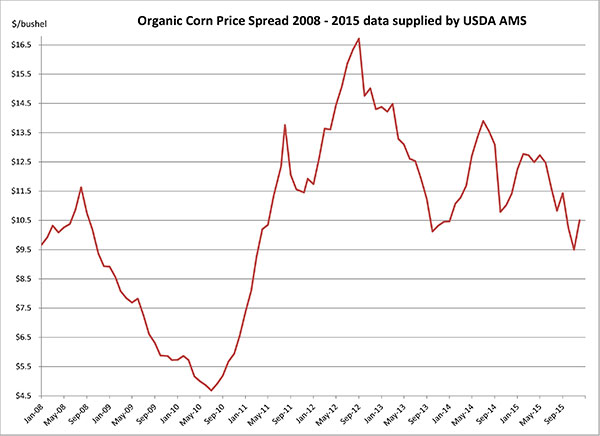 Attached Files:
Posted: to Organic Pay, Feed & Grain Prices on Fri, Jan 1, 2016
Updated: Fri, Jan 1, 2016