FEATURED FARM: Young Family Farm, Antwerp, NY
By Adam Diamond, NODPA Contributing Writer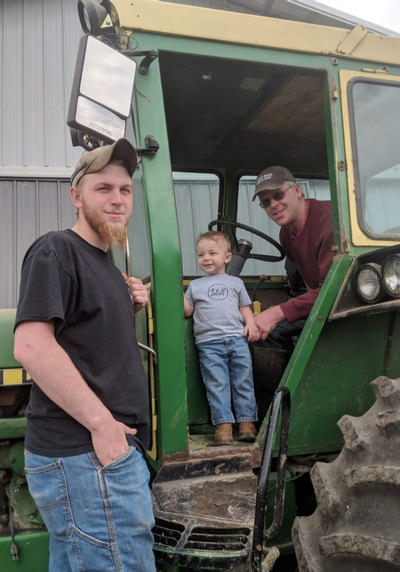 Three generations of Young farmers. From left: Zack (youngest son), Hank (grandson) and Jim
Jim Young is a 3rd generation dairy farmer on 210 acres in Antwerp, New York, a 40 minute drive from the Canadian border. He has been farming with his wife Antoinette, who goes by Toni and kids Adam, Morgan and Zachary since 1993. Starting out with 35 cows, he transitioned his farm to organic in early 2000 and started shipping organic milk that spring to Horizon.
What really stands out when talking with Jim and learning about his farm and his approach to farming is his steadfast commitment to sustaining his family's involvement in dairy farming, and working closely with his children and brother to help them get established in dairy farming.
While Jim and Toni initially started out with careers in social service jobs, they decided after a few years that dropping off the kids at sitters was not the life they wanted for their family. Jim emphasized that while his wife stayed home with the kids for many years, and has not done a major portion of farm work, she has been very supportive of the entire farm enterprise, and he could not have done it without her. From humble beginnings, Jim said they "started from dirt," Jim and Toni built up a successful small farm. Jim was candid in saying that the primary reason for switching to organic was economic. He explained that the healthy of his family is important; his kids were raised on raw milk, and that organic "is better for the soil, but that's not enough. That won't pay the bills. I don't want to be one of my neighbors that's conventional- burning up all their equity. You need to be niche. Next niche—A2 milk, and then grass-fed. I don't want to be in the conventional market."
Jim's journey as a farmer has led him to a few different farms in upstate New York, different milk buyers and several business relationships with family members, but through all these changes he has raised cows organically for almost 20 years, has stayed small, and has been very creative in finding ways to kick start his family's farming operations and manage uncertain market conditions.
For the first five years they farmed, Jim and Toni rented three different farms in upstate New York while they developed their farming skills, saved money and their credit history to buy a farm. In 1998 they bought a farm next door to where they are now, and went to organic production a couple of years later. When they started out in organic production it was tight, with only 35 cows, and $20 milk. Around the middle of that decade the market conditions improved as the organic milk market expanded, as did pay prices.
Jim and Toni's' daughter and younger son have taken over this original home farm, and Jim is now farming with his older son Adam, who started farming full-time when he was 18. He had majored in agriculture in high school and knew that he always wanted to farm, and didn't want to go to college. However, as Jim put it," you can't borrow money without experience. And you can't get experience without money." Jim helped Adam overcome this dilemma by getting him started on rented land 10 miles away, providing cows and some equipment to get him started in the dairy business, allowing him to establish a track record. After only three years Adam met FSA lending criteria and was able to pay back Jim with funds borrowed from FSA.
However, because organic milk prices have dropped along with the rest of the dairy industry, Jim and Adam decided it made more sense to join forces. In November of 2018, they decided to merge their farms; Adam still has his farm ten miles away, but they put in a bigger tank on the main farm and only keep the dry cows and young stock there. The entire milking herd of 50 cows is on what used to be just Jim and Toni's farm. Merging the two farms allows Jim and Adam to share farm chores, allowing them to take more breaks-- Jim explained that previously went 7 years without a single milking off. Furthermore, establishing a slightly larger farm makes them more desirable in the eyes of milk companies. When organic milk was growing fast and companies were desperate for milk they would go miles out of their way to pick up small amounts of milk, but now, as times have changed and supply is plentiful and margins are tight the milk companies are cutting off farmers that are too far off the route, or too small. Some companies are now charging fixed milk hauling fees, which is a major burden for a 25 cow farm.
They ship their milk now to Horizon, after Jim switched away to Maple Hill Creamery after having been with Horizon from 2000 to 2015. When prices were peaking in 2015 Jim decided to switch to Maple Hill, based in Kinderhook, New York as they were looking for milk and were offering more money than Horizon so Jim took a risk and switched. However, after only three years market conditions changed abruptly in the New York and national organic milk markets. Maple Hill's branded milk has always been grass-fed, and Jim has always fed some grain to his cows, so he was unable to have his milk marketed under Maple Hill's label; instead it was going via Maple Hill to Byrne Dairy, which agreed to process Maple Hill's grass-fed milk in exchange for providing additional, organic non-grass-fed milk. However, in December of 2018 Maple Hill gave 6 months' notice to all of its non grass-fed farms that they were not going to be buying their milk anymore. Jim was appreciative of Maple Hill giving a fair amount of notice, but "it was still a bad time." Byrne Dairy could buy cheaper milk from more westerly production regions with lower prices so Maple Hill lost its contract with Byrne Dairy. Luckily, he was able to go back to Horizon in March of this year as his farm was in a good location relative to Horizon's milk routes. Jim relayed his good fortune—"I left them when they needed us the most, and they took us back when they needed us the least." Besides the good location, Jim had a very strong quality record in his previous stint with Horizon, which may have influenced their decision to take him back.
Meanwhile, Jim worked with his youngest brother Andrew-- who is 18 years younger-- to get him up and running in the dairy business. It was a very productive partnership for the two brothers as Andrew worked construction during the week and worked on the farm at nights and weekends. As Jim puts it, Andrew "had a lot of drive." He helped build the current farm, down the road from the original farm Jim and Toni purchased in 1998, including working with Jim to install a modern milking parlor and build a new barn for a cash outlay of only $33,000. This second farm was purchased in 2010 as a way to bring in more family members to the business. The two brothers built up the herd to 66 cows and when Andrew found a farm of his own they split the herd in half, as well as the equipment. Andrew paid back Jim for the help he provided getting him started on his own. When Andrew left, Jim and Toni's youngest two children-- Morgan and Zachary took over the original farm. It is truly remarkable that starting with a small herd and land base, and during uneven market conditions Jim has facilitated four family members into becoming full-time, self-sustaining farmers.
To Be Grass-Fed or Not?
Amidst these myriad transitions, Jim has been experimenting with new forages to explore what it would take to go all grass-fed, which could be a financially beneficial choice given Maple Hill's presence in the region as a grass-fed milk marketer. He has done forage trials with brown midriff sorghum, and has a veterinarian who is super enthusiastic about grass-fed dairying, but he remains hesitant due to economic, agronomic and animal husbandry considerations. Jim is concerned that the $11/cwt premium is not sufficient to overcome production losses associated with going from 10-12 lbs. of grain daily per cow to zero. Equally important, Jim emphasized that he was not convinced that a grass-only diet is suitable for his all Holstein herd. He feels that a lot of grass-fed farmers went the grass-fed route by default, meaning they just quit grain cold turkey, and did not make enough improvements in cow comfort. One needs "to create an environment in which that cow thrives, so it will breed back throughout the year….fighting nature to begin with (in terms of year round milking) so going grass-fed makes it even that much harder." The challenge is how to get cows to calve in the fall without mimicking the spring boost in energy. One needs to ensure cows have the energy levels that exist in pasture from May to June all year round if one is going to have year round milking, and doing this without grain Jim argues, "is a tall order". These challenges, along with the fact that he grows all his own grain for a cost of $200/ton, compared to $700 on the open market for organic grain, and that he would have to be very sure he would never want to go back to Horizon, makes him wary of going the grass-fed route at this time.
Whither Organic Milk
We closed our conversation with a brief discussion of the state of the organic industry. Jim is very concerned about the impact of fraudulently certified imports on the integrity of the organic industry. He feels more oversight is needed throughout the supply chain to make sure everyone is following the same rules. Another response to this problem could be more specific labeling, such as "grown in New York" to highlight the North American origins of organic food products to consumers concerned about organic integrity. Despite the travails he and other farmers are experiencing, Jim is committed to organic dairy. "I do feel strongly about this business. I love my way of life... my wife and I both had good jobs and quit them [to pursue farming]. We didn't do it blindly; we knew what we we're going into. I hope consumers support us so we can get a decent living….we need consumer confidence [in the organic label]."
Posted: to Featured Farms on Mon, Jun 10, 2019
Updated: Fri, Jul 26, 2019