Learning to Love a Farmland Lease
Kate Kellman, Digital Marketing Coordinator, Land For Good and Jae Silverman, MA Field Agent, Land For Good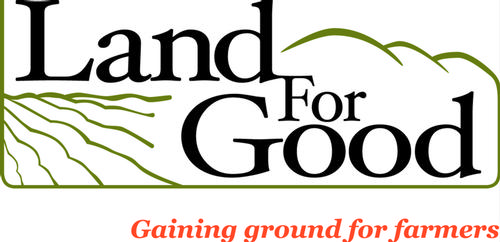 With fall arriving, and ever so quickly departing, it's the perfect time to gather the tools that will support you during your winter planning season. If you're thinking about leasing farmland (or already do lease) consider these many benefits - and tools - to help you craft a new lease agreement, improve your existing lease, or formalize the handshake agreement you've had for years.
Chase Hill Farm, Warwick MA. Photo credit: Lisa Luciani, Land For Good
Leasing farmland has many benefits, which makes it a common way to access land. Nearly half of all US farmers lease either some or all of the land that they farm. Leasing allows farmers to access farmland without the substantial commitment of capital required to purchase land.
Lease Types
When it comes to leasing, there are different types to consider: short-term, rolling, long-term, ground leases, and even lease-to-own. A short-term lease, typically one to three years, can enable you to experiment with new practices, try a new location, test out your business model, and determine whether you are comfortable with your landlord. This flexibility, and reduced financial risk, are particularly useful when you're just getting started. It allows you to put your limited funds toward getting your farm business off the ground.
A challenge with a short-term lease is that it can be hard to make long-term business or family plans if the leased land is a significant portion of your land base. With an annual lease, you don't know for sure if you'll be on that same land next year, so longer-term improvements to the land, such as drilling a well or putting up permanent structures, are usually not a wise investment. Focusing on temporary infrastructure, such as non-permanent livestock shelters or fencing that can be removed, is a way to try out a short-term lease while not risking assets that can't be retained by the tenant if the lease is not renewed.
If you're interested in feeling a bit more secure in your lease term, but like the flexibility of a short-term lease, you might consider a rolling lease, which automatically renews itself each year. For example, a rolling three-year lease renews at the end of each year for another three years. At the beginning of each year, the farmer tenant knows that he or she has at least three more years to continue farming the parcel. With a rolling lease, each year the parties have the option not to renew, at which point the lease will continue until the end of the previously renewed lease term and then terminate. This allows a "planning horizon" for both the farmer and landowner to prepare for the termination of a lease, without commiting either party to a long-term arrangement.
Longer-term leases, five to 99 years, offer many of the same practical and emotional advantages of owning land without some of the associated costs and responsibilities such as taxes, fees, depreciation, and insurance. Long-term leases provide a much longer planning horizon, sometimes even as long as the foreseeable farming career of the tenant farmer. In this way, long-term leases give you more time to implement sustainable, long-term farming practices and see the benefits of investments in soil building and pasture health. A long-term lease is a significant commitment. Therefore, the lease should account for situations pertaining to early termination and the tenant's investments in the property if things don't work out.
A common complaint with leasing is that farmers don't have the opportunity to build equity in the land. Equity, wealth that you have tied into an asset, is beneficial because it is a protected form of ownership. Equity allows you to borrow against that asset in order to finance something else, such as infrastructure improvements or land purchase. Although most leases don't allow you to build equity in the land, it is important to remember that you may be building equity in other assets - in your dairy herd, in your farm equipment, or in other assets that are critical to growing your business. These forms of equity have a different value over time, compared to the rate of land appreciation. But, having capital to spend on growing your business early on may be what ensures the viability of your farm in the future. It may also be wise to have some capital to allocate to savings for retirement and other future needs.
Ground leases allow you to establish some degree of equity in a property's infrastructure. With an agricultural ground lease, a farmer leases the land ("ground") and purchases or builds and owns the buildings and sometimes, other improvements on the land. This interesting hybrid form of tenancy - "partial ownership interest" - is a potential option for farmers who wish to build equity in their enterprise. Because of the complexities involved, ground leases are less often considered by private individual landowners and are more common when the landowner is an organization, such as a land-holding nonprofit or LLC.
Lease-to-Own
If ownership is your goal, leasing can be a pathway to ownership. "Lease-to-own" refers to strategies to gain ownership of a particular property at a future point via specific legal transactions involving the property owner (landlord) and the buyer (tenant). Lease-to-own provisions can be advantageous for farmers who cannot arrange for a conventional mortgage but would like to own a particular property in the future. Additionally, lease-to-own provisions are also great for farmers who want to spend their capital on other assets first, like equipment, livestock, supplies, infrastructure (temporary or otherwise), to get their business up and running, and then have the flexibility to think about buying the land down the line if all goes well.
There are three common elements that most farmers think of in a lease-to-own arrangement: Right of First Refusal, Purchase Option, and Rent Toward Downpayment.
Having a Right of First Refusal prevents the owner from selling the property without giving the tenant the right to buy the property themselves at the price offered by a third party. Taking things a step further, a Purchase Option means that the landowner agrees to sell the property to the tenant at a future date, but is willing to wait a few years and lease it to the tenant in the meantime. The Option to Purchase would be built into the lease at the time of signing, but it does not obligate the tenant to go through with the purchase when the time comes. For example, on a 10 year lease, the option to purchase might start around year seven, giving the farmer some time to be on the land, to save up capital, and to build up their business and ability to qualify for financing, before ultimately deciding whether it is the property they want (or are able) to purchase.
Lastly, what many think of when they hear "lease-to-own" is the idea of attributing some amount of the rental payment towards a down-payment on the property. This can be a great way to build some amount of equity and begin "chipping away" at a farm purchase. Lease-to-own takes a certain type of landowner; one who is willing to receive some of their asking price in installments ahead of the purchase and has patience for the added complications of the legal arrangement.
Landowner Benefits
Interested in showing a landowner how they too can love a lease? Consider emphasizing these benefits for the landowner. There can be state-specific property tax advantages to putting land in agricultural use, which provide a substantial reduction in "carrying costs" associated with owning that land. Additionally, a conscientious farm tenant can share the burden of property maintenance and contribute desired improvements as agreed to and codified in a lease. Having your land farmed can also be aesthetically pleasing, can discourage vandalism, and can offer passive recreation possibilities. Finally, active farm management is often much better for the land itself than letting it sit idle or leaving it to weeds and scrub. Open farmland is an invaluable resource for our region, and once it goes back to brush, it's hard and costly to get back again.
Chase Hill Farm, Warwick MA. Photo credit: Lisa Luciani, Land For Good
For many farmers, and especially for dairy or other livestock operations, it is quite common to own some land and lease some, or to lease multiple parcels from different landowners. As one might expect, there are often different types and lengths of leases at play for any given farming operation, ranging from a one-year handshake lease on a hayfield to a long-term or rolling lease on the main farm complex. It is for you and the landowners to decide what types of leases and mechanics work best for each situation and desired security or flexibility. But always remember that a verbal agreement is only as good as the paper it's written on. And, you should always have your lease reviewed by an attorney who is familiar with farm leases.
Communication is Key
The keys to any successful relationship, including between landowner and tenant, are trust and effective communication.
Lease agreements fail more often because there is a breakdown in communication than because of a breach or failure of one party or the other. If trust has not been established, or is eroded over time because of a specific disagreement, other problems are likely to build. It is really important to strive for clear, open and ongoing communication right from the beginning of the relationship.
Once an agreement is put into place, don't forget about the landowner. Keep lines of communication open. You may feel too busy to bother (or bother with) the landowner but it pays off to keep in touch with him or her regularly. An annual meeting is the minimum good practice. A quick phone call, email or personal visit can help, especially if there is a change in your personal or business circumstances. An end of the season letter that reports how the season went is a nice way to keep in touch. All will help keep the landowner interested in your farm business and help build a fruitful, long-term relationship.
Tools
With this knowledge in mind, take advantage of the tools available to help you develop or improve your farm lease. Visit the free Leasing Toolbox (landforgood.org/leasing) from Land For Good for tips on writing a lease, determining rent, and negotiating, plus samples, templates, and more.
Start with these Elements of a Good Farm Lease (landforgood.org/wp-content/uploads/LFG-Elements-of-a-Good-Farm-Lease.pdf) to familiarize yourself with what should be included. From there you can try Land For Good's Build-A-Lease Tool (landforgood.org/lease-tool-login) to learn about farm leases, build a working version of a lease agreement that fits your situation, which you can save, revise, download, and share with advisors, landlords, farming tenants, and attorneys. There are additional resources in Land For Good's Leasing Toolbox (landforgood.org/leasing) for farming tenants and landowners shared by experts at Ohio State University Extension, the University of Vermont's Center for Sustainable Agriculture, Cuyahoga Valley Countryside Initiative, and Vermont Land Link.
Land For Good also provides advising services to New England farmers, farm families, and landowners who need additional help with farmland leasing, as well as finding, securing, or transferring farmland. If you're looking for land, Land For Good's state-based field agents can help you explore your farm acquisition goals, plan a search, find and assess properties, get referrals, develop lease agreements, and manage landowner relationships. If you need help with farm transfer planning, they'll help you start the conversation, develop a plan, recruit a successor, and secure a meaningful farming legacy.
Land For Good
PO Box 625
Keene, NH 03431
office 603-357-1600
Posted: to Industry News on Mon, Nov 18, 2019
Updated: Mon, Nov 18, 2019