Grassfed Direct Market Farming in Paradise: Dutch Meadows Farm
By Adam Diamond, NODPA Contributing Writer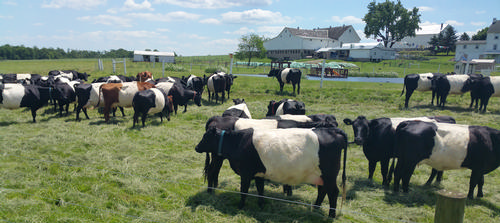 Raymond Stoltzfus has lived his whole life on Dutch Meadows Dairy in Paradise, PA, but only started taking over farm operations when he got married a year ago. Ray is the third generation in his family on this farm, started by Ray's grandfather in 1952. Ray's dad—Alvin-- took over the farm in 1986 and farmed conventionally for a few years. He had always liked the idea of farming without chemicals, and had seen the negative effects of conventional farming on the cows and the land.
At the time he took over the farm there were very few organic farmers in Lancaster County, PA. Ray explained that it "was considered a very strange way of farming." His father decided—after experiencing allergies from pesticides— to transition to organic in 1996, and started shipping organic milk to Natural By Nature in 1999 under Pennsylvania Certified Organic's certification. Dutch Meadows Dairy partners with other dairy farms and diverse operations to produce and market raw milk, yogurt and a range of meat and vegetable products through pick-up locations, an on-farm store, a network of wholesale customers in central and eastern Pennsylvania, and a burgeoning mail-order business.
Cow Genetics: Dutch Belts and A2
Ray's father first tried raising cows organically with corn, but he quickly decided that it made more sense to rely on pasture as the primary feed source for his cows. However, switching to a grass-based dairy meant he had to move away from his Holstein herd and find a breed more suited to grazing. After attended a grazing conference in Pennsylvania in the mid-1990s he came away convinced that moving to an all Dutch Belt herd made sense. This breed does well on grass and produces a good amount of milk. Ray explained that in addition to Dutch Belts being good grass-based milking cows, there is strong demand for Dutch Belt organic heifers, providing a boost to farm income. "We sell a lot of breeding stock. It has helped us a lot…there is good demand for Dutch Belt cows…instead of heifer calves being worthless, we have buyers waiting from them." Right now, Ray and his wife, Fannie Mae, are milking 39 Dutch Belt cows, but are expecting to increase their herd size to 45 next year.
They mostly rely on bulls for reproduction, but have also found some good Dutch Belt A2 bulls in California and Illinois to use for AI. They are moving toward a full A2/A2 herd, as A2 milk is highly demanded by customers with allergies or autistic children who attest to it being easier to digest than non-A2 milk. The reason that A2 milk is easier to digest is that protein cells in A2 milk are consistently smaller than A1 milk proteins. Dutch Meadows Dairy tests all heifers, and sells any that do not test A2/A2.
This transition to A2 milk builds on the Stoltzfus' 25 years of experience breeding Dutch Belt cows for optimum genetics. Ray explained that one difference with Dutch Belts is they do not produce quite as much butterfat as Jersey cows, with their current yearly butterfat herd average being 4%. The milk is not as creamy as Jersey milk, although Ray said, "some customers...say Jersey milk is too thick and heavy" and they prefer the Dutch Belt milk. Also, the fat particles in Dutch Belt milk are smaller, making it naturally almost completely homogenized. This characteristic makes the milk easier to digest.
Managing Cows: Housing, Feeding and Cow Health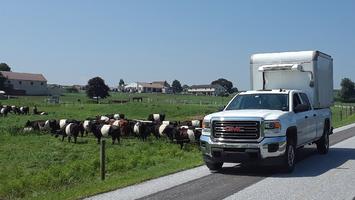 The cows are milked in a tie stall barn, with the cows only coming inside for milking in the summer, even grazing at night. Using bucket milkers and a vacuum system, four cows can be milked at once. Ray said they are thinking of building a milking parlor in the next year or two to increase efficiency.
The Stoltzfus' practice mob grazing, with the cows concentrated on a small paddock for a short period of time. The cows are put on pasture when the grass is fairly tall because the Stoltzfus' have found that the grass has more energy and less protein when it is tall. The whole farm gets mowed twice a year, while other parts are mowed more often. All the pastures are clipped in June and August after the cows graze them. This is done for weed control, not for hay production, because with mob grazing significant clumps of vegetation are left over as the cows do not graze as evenly as they would if they were forced to stay on pastures longer. Given the option, cows favor certain kinds of plants over others and periodic clipping after the cows graze keeps weeds under control.
At other points, when cows cannot keep up with the pasture growth, the herd will skip one or more paddocks, and these paddocks will be mowed and the grass put in the barn as hay instead. The cows might be on paddock 10, and paddocks 11-13 will be mowed for hay and the cows will skip to paddock 14 because there is no way they will be able to keep up with the pasture growth. In the summer, cows are moved to new grazing paddocks at least three times daily, twice daily in the spring and fall, and in the winter the cows are outside for exercise, and baleage is put in the pasture.
The cows' entire dry matter intake is from pasture, wrapped hay, or dry hay. In addition to forage, the cows always have free choice minerals, and in the winter molasses and apple cider vinegar are mixed in with the hay as a supplement. They have noticed that the apple cider vinegar helps lower high somatic cell counts and can remedy mastitis. Milking cows, heifers and weaned calves get pretty much the same ration. The calves are raised on feeders with four to a pen, and fed two gallons of milk daily for four months, and then transitioned to ½ a gallon of milk daily plus hay for two months before they are weaned completely. Ray said that after experimenting with different methods, including running calves with the cows, nurse cows, and keeping cows with momma, that feeders are the most efficient. "Whenever you run calves with cows you've got another group to take care of."
With the shift to organic production and even more, going from grain and corn silage to pasture has brought improvements in cow health and a dramatic decline in veterinarian bills. Dutch Meadows Dairy went grain-free about 5 years ago, at which time the few cows that did not milk well without grain were culled from the herd. Ray believes that it is better to start with a clean slate and have heifers raised from the start on grass, rather than switching them from grain to a grass only diet. The farm does have a regular vet who comes to the farm 3-4 times a year and does pregnancy checks and test for tuberculosis and brucellosis. Ray explained that "I want a good relationship with my vet so I'll get better service when there's an emergency."
Marketing: Buying Clubs, Wholesale and Retail Outlets
What sets apart Dutch Meadows Dairy from the vast majority of organic dairy farms is its well-developed marketing operation, through which it sells all of its milk. It has spun off a separate business—Dutch Meadows, LLC—that processes and markets raw milk, yogurt and a wide range of meats, eggs and vegetables through a multi-layered distribution network, with most of the non-milk products coming from a network of supplier farms. Dutch Meadow's first foray into marketing was when it opened a farm store in 2004. Shortly after this, the farm got a raw milk permit in 2005 after several customers said they were interested in getting raw milk. Pennsylvania has relatively permissive laws regulating raw milk compared to many other states; raw milk can be sold in stores and through direct delivery.
Dutch Meadows Dairy first started selling raw milk using a few drop sites in Philadelphia, and, about a year after the raw milk business started, Natural By Nature dropped the farm from its milk route because the loads were too small to make it worth it. By this point the farm was shipping only 25% of its milk to Natural By Nature; the rest was being sold through an extensive wholesale raw milk network. As Dutch Meadows built up its raw milk business it also started producing and marketing a range of other products, including chicken, dairy, beef, eggs, and vegetables. At first, the Stoltzfus' were doing all of this diversified production on their own, albeit on a smaller scale than today, but after a while they realized it made more sense to have Dutch Meadows Dairy focus on dairy production, and coordinate with other farms to procure other products for its distribution and marketing network. Their dairy farms are certified organic and the raw milk and yogurt are certified, but some of the partner farms are not, although our standards are above and beyond organic. According to Ray, "the main reason our farms are not all certified is that some do not want to take on the expense or paperwork demands of certification, and we also like to keep the cheese and some of the other dairies without certification so that we can start new farms and be able to sell their product before they get their certification."
In spring 2007, Dutch Meadows had started sending raw milk to stores through Lancaster Farm Fresh (LFF), which is primarily a produce distribution company. The problem with using LFF was that it had fairly high minimum order requirements for individual stores, and it already had other suppliers for other items Dutch Meadows might want to sell to stores, so it was hard for Dutch Meadows to bring on new customers or diversify its product line using this market channel. At its peak, Dutch Meadows had 30-40 wholesale accounts, but this has been winnowed to 12-15 of the best accounts. The prices are better selling the milk to retail customers, and Ray said he finds "it's more rewarding dealing direct with customers, you get to see first-hand the benefits people are getting from your product. More labor is involved, but it makes more sense- you can do more products with retail. Wholesale meant fewer opportunities to have a diversified product line." Furthermore, farmers get paid more when the product is sold at retail.
Dutch Meadows LLC was started five years ago to take over the distribution and marketing from Lancaster Farm Fresh. It sells raw milk, yogurt, pork, beef, eggs, turkey, lamb, and vegetables to online customers throughout the United States, buying clubs, retail stores throughout Southeastern Pennsylvania, a farm store at Dutch Meadows Dairy, and three home delivery routes in Berks, Lancaster and Philadelphia Counties. Having one's own distribution company means more flexibility when it comes to order sizes, shipping schedules, and product diversity. The retail business was expanded considerably three years ago with the help of a consultant--Kitchen Table, which designed the website, helps with marketing, and writes blogs on an ongoing basis. Dutch Meadows, LLC pays Kitchen Table an hourly fee now for marketing pieces such as recipes, blogs, or changes to the GrazeCart website that hosts the online store for Dutch Meadows. Bringing Kitchen Table onboard and shifting retail sales to GrazeCart has proven to be a highly rewarding decision. From 2016 to 2019 retail sales increased from 10 to 70% of total sales; the remainder is accounted for by wholesale orders from stores.
Currently, Dutch Meadows Dairy and one other nearby farm supply milk for Dutch Meadows LLC that is either bottled and sold as raw milk, pasteurized and made into yogurt, or turned into raw milk cheese by a local cheesemaker. An additional dairy farm will start supplying milk to Dutch Meadows LLC next year, and 15-20 additional farmers supply the meat, eggs, and vegetables for the various market channels. About two thirds of all sales through Dutch Meadows LLC are accounted for by beef and dairy products. Ray said that Dutch Meadows, LLC aims for a 40% margin on retail sales, with a lower margin on wholesale orders. Ray emphasized that he "has seen too many farms not keep track of margins, and then they lose out. You have to figure out costs and set your margin target to meet those costs." For some products, order sizes, or market channels, the margins are lower and for some others they are higher.
In addition to targeting a certain margin, Ray explained the importance of having a pricing policy that encourages production of high quality meat and optimizes sales. Dutch Meadows, LLC picks up cattle live, takes the animals to a butcher, and sells the meat to stores. Farmers are paid hanging weight for their animals, which incentivizes farmers to have well-muscled and fattened animals, relative to bones so one won't lose a lot of the animal with butchering.
A guiding principle for Dutch Meadows, LCC in its diversified farm production and marketing business has been "to start small, get a good quality product, and grow from there." Ray advises other farmers considering the direct marketing route—"You have to be willing to make mistakes and do things that haven't been done….It's not easy, but it can be very rewarding, when you have customers talking about how it's helped with illnesses or their children's- allergies or immune disorders. That's what we're here for. Creating opportunities for farmers and making good food accessible for consumers."
Ray and his wife have a lot of help with the non-farm tasks, from packing and bottling to delivery. Two of Ray's brothers and several neighboring (7-8) Amish young women help with packing and bottling operations. There is also one full-time and one part-time driver for the retail stores and buying clubs. The home farm only has cows and a few lambs; it makes more sense to coordinate with a network of farmers than to try and produce everything on one farm.
Dutch Meadows LLC, by bringing other farms into its distribution network, functions as a small farm/direct marketing incubator, helping existing farms broaden their crop base and/or their market channel mix by finding new customers for them. The tagline for Dutch Meadows is "rebuilding our communities and restoring a vibrant food system." In part, Ray is able to actualize this mission when farmers come to Ray and ask "what can I do with my land?" Often, Ray is able to suggest that a farmer grow a particular crop for sale through Dutch Meadows LLC. These farmers may already be interested in growing a particular crop, but they don't have a market for it, and this is where Dutch Meadows can play a critical role in fostering agrarian entrepreneurialism. Farmers in the Dutch Meadows network avoid soy, chemicals, and raise livestock on grass. These guidelines send a clear message to customers who want to support this type of farming. Ray is not putting down farmers who don't follow these policies, "other farmers could do that, but we have to decide what we're going to do and market it to customers….We have to be strict across the board….Can't be all things to all people." Dutch Meadows Dairy and Dutch Meadows LLC are blazing a trail for organic, grass-fed and chemical free farmers, linking up customers with producers, catalyzing new production, and offering a different model of vertically coordinated production and marketing that puts farmers in the drivers' seat.
Raymond Stoltzfus, Dutch Meadows Farm, LLC, 694 Country Ln, Paradise, PA 17562 can be reached at 717-442-9208 or info@dutchmeadowsfarm.com
Posted: to Featured Farms on Thu, Jan 9, 2020
Updated: Wed, Mar 25, 2020