Organic Milk, Pay, Retail and Feed Prices November 2015
Update
By Ed Maltby, NODPA Executive Director
Added November 24, 2015. Total retail sales of organic fluid milk for July and August 2015 show a decline in sales on the previous year with sales of non-fat products continuing to drop while whole milk continues to increase. While retail fluid sales have declined, the retail price has increased and there are still shortages on supermarket shelves. The drop in sales can be attributed to a shortage of supply or milk being diverted to manufacturing as demand for organic dairy non-fluid products is increasing. Producers are continuing to move to different buyers as contracts end and pay price continues to increase in response to higher inputs and competition for supply. In the northeast farmgate prices between $35-40 per hundred pounds are being reported, and higher for operations that meet the grass-based criteria of some buyers and at least two certifiers. In the Midwest the mailbox price can average $33-35 per hundred pounds.
As domestic supply is tight and the number of producers transitioning or expanding is slow, the two major national brands are looking overseas and to other beverage products to expand their operations and profitably.
WhiteWave (parent company of Horizon) reported overall sales were up 17%, exceeding $1 billion for the first time in a single quarter, with "plant-based beverages" here in the US and internationally driving their profitability, and Horizon sales were up 6% on 1% lower volumes due to higher prices and increased sales of butter and cheese. They also stated that the Wallaby yogurt brand, of which they completed the acquisition, was the number one organic yogurt in the natural distribution channel (food co-ops, Whole Foods, Vitamin Cottage, etc.). WhiteWave's popular plant-based foods and beverages brands in Europe include Alpro® and Provamel®, and its plant-based beverages in China are sold under the Silk® ZhiPuMoFang® brand.
Organic Valley/CROPP (OV) and the British cooperative the Organic Milk Suppliers Cooperative (OMSCo) have strengthened their ties to "help develop markets for organic milk and dairy products." Each will become a member in the other's organization, while retaining independence. The two already have a close working relationship, with OV marketing and distributing OMSCo's Kingdom Cheddar, the only European organic cheese available on the US market. The rationale for the increased cooperation can best be summed up by their management as reported by the British agricultural press: "OMSCo and CROPP are the two largest dedicated organic dairy pools in the world, with a combined organic milk supply of almost 1 billion litres, " said Richard Hampton, managing director of OMSCo. "Our relationship has naturally evolved, and this alliance is the next step. This agreement will allow both co-operatives to market each other's bulk and branded products and, by working together, OMSCo will be better prepared to satisfy the growing global appetite for organic dairy products." The move was an important development for co-operation in organic agriculture on a global scale, said Eric Newman, Organic Valley's vice-president. "In meeting the ever-increasing consumer demand for organic dairy products all over the world, our two co-operatives are doing what we know best: we're co-operating." CROPP already has marketing relationships with organic dairy and beef cooperatives in Australasia.
These developments by the leading buyers of domestic organic milk illustrate the direction that organic dairy is moving and has become a worldwide commodity, mirroring the conventional dairy market. What that will do for any future producer pay price, retail pricing and organic integrity is an open question but we have seen the effect of world pricing on the pay price for conventional dairy.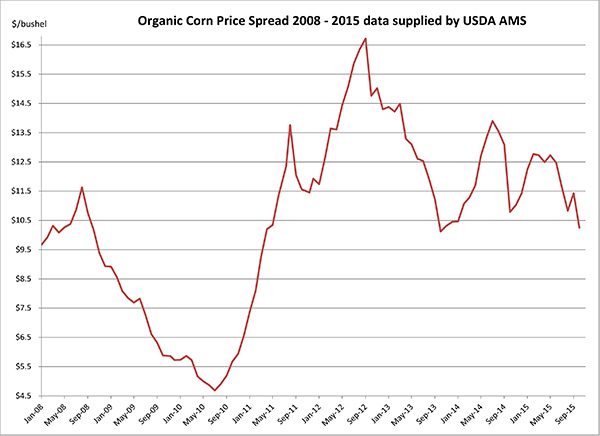 Attached Files:
Posted: to Organic Pay, Feed & Grain Prices on Tue, Nov 24, 2015
Updated: Tue, Nov 24, 2015