Update: SAVE THE DATE FOR THE 20TH ANNUAL NODPA FIELD DAYS SEPTEMBER 24 & 25, 2020
Program Update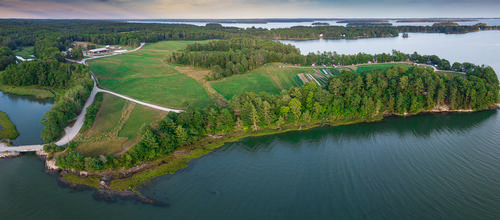 4/16/20: While planning has been disrupted a bit with the pandemic, the NODPA Field Days Educational Program Planning Committee has met and the following are topics and presenters we are working on. At this time, they are tentative until all speakers can be confirmed.
Dr. Andre Brito, veterinarian and professor at the University of New Hampshire will be sharing his research findings on the role of legumes in dairy diets. Dr. Brito writes, "Both UNH and UVM has done a lot of work with legume and legume-grass mixtures and we have data from alfalfa, red clover, and birdsfoot trefoil with different grass mixtures on biomass production, forage quality, and silage (lab mini silos) production. I think this will be interesting for all organic dairy farmers." There will be a panel of Maine dairy farm families that are operating diverse organic farms and creating value-added products. They will share their experiences of raising young families while operating complex farm businesses. We are exploring a farmer-to-farmer session focused on feed crops and grazing: what works, what doesn't, and how farmers are making the best decisions on their farms.
Of course, there will be discussions focused on the current dairy industry, and if relevant at the time, how the COVID-19 pandemic is impacting farming, markets, and the economy. We have invited Maine's US Representative Chellie Pingree to present on the progress of the bill she's introduced: the Agriculture Resilience Act, which she said would "promote farmer-driven climate solutions." The bill sets a vision of reaching net-zero greenhouse gas emissions in U.S. agriculture by the year 2040. A lot more planning is taking place, so please check out the May NODPA News, and online at http://nodpa.com.
3/15/20: We are excited to announce that the 20th annual NODPA Field Days will be held on the coast of Maine, at the Wolfe's Neck Center for Agriculture and the Environment and Organic Dairy in Freeport. Wolfe's Neck Organic Farm is situated on over 600 acres of picturesque coastal land in Freeport, Maine. The farm has been in operation since 1959 when it was operated as an organic beef farm.
The NODPA Field Days have been held in Maine two times. The first one was in NODPA's early days and Henry Perkins promised every attendee a lobster dinner to lure them to Maine. It was a smashing success! The last time, 10 years ago, NODPA Field Days was held at the MOFGA headquarters. On this 20th anniversary, we are excited to partner with Wolfe's Neck Center for Agriculture and the Environment to bring you a full educational program and two farm tours.
Wolfe's Neck Center (WNC), a public non-profit and community resource since 1997, offers a wide variety of programs including their immersive farmer training programs, farm-based education and research, the Dairy Grazing Apprenticeship program, a community garden, Community Supported Agriculture (CSA) program, Community and Visitor programs, seasonal events and festivals, and a campground.
We are working hard to create a timely educational program that we will share as soon as it's more fully formed. In the meantime, the following activities are confirmed: On Thursday, September 24th, we will feature the first farm tour (to be announced shortly), then convene for registration, lunch and an afternoon of workshops and discussion. The NODPA Annual Meeting will take place during the evening banquet, and a speaker presentation will follow dinner. Friday morning starts with the very important Producer-Only meeting, and will be followed by a morning of workshops. After lunch, the second farm tour, of Wolfe's Neck Organic Dairy, will close out the meeting and Field Days.
In southern Maine, Freeport is conveniently located 25 minutes north of Portland, just off Interstate 295, and is the home of LL Bean, plus plenty of things to see and do in the area. Wolfe's Neck has an oceanfront campground, which includes over 130 sites and three oceanfront cabins; we are working with the staff in order to offer all NODPA Field Days attendees that are interested in staying on-site terrific rates. Please stay tuned for more information. In addition to standard tent and RV sites, they have 'comfort camping' sites with a furnished tent, and a few cabins. The campground also offers kayak and canoe rentals for exploring the coastline of Casco Bay, and bike rental for wandering the dirt roads that line their campus and campground.
If you are planning to extend your Maine stay following the NODPA Field Days, consider heading up I-295 to Unity, Maine for the Maine Organic Farmers and Gardeners Association/MOFGA's 44th Annual Common Ground Fair, September 25-27th. Almost 60,000 people visit this very popular three-day agricultural fair each year. Visit https://mofga.org/The-Fair fore more details.
We will be sending out information on sponsorship and trade show opportunities in the few weeks, and will have it posted on our website. Anyone that is interested or who has questions should contact Nora Owens, NODPA Field Days Coordinator, at 413-772-0444 or by email, noraowens@comcast.net.
We hope everyone will Save the Dates, and join us at Wolfe's Neck Center for Agriculture and the Environment for the 20th Annual NODPA Field Days on September 24 & 25, 2020.
Posted: to Field Days on Tue, Mar 24, 2020
Updated: Tue, Apr 14, 2020